Activities in Zimbabwe's main cities of Harare and Bulawayo virtually came to a standstill on Wednesday as most people stayed away. According to local media, armed police were deployed to guard government owned media houses.
There are also unconfirmed reports that President Robert Mugabe has put the country's military on standby. In some parts of the capital Harare, protesters burnt tires.
The latest call by the social media civic activist group #ThisFlag, for Zimbabweans to shut down the country, comes after police engaged taxi drivers in running battles in the capital Harare at the start of the week. The drivers were protesting against roadblocks leading to the city center.
The founder of #ThisFlag, Evan Mawarire, told DW in an interview that the response to his call has been outstanding. "As far as we can see, there is a huge response," said Mawarire, who has 14,000 people following him on Twitter.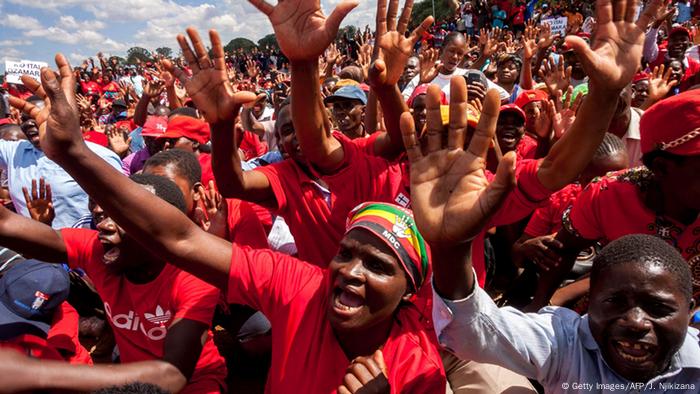 Young Zimbabweans are becoming increasingly frustrated with their government
He said no Zimbabwean was immune to the hardships that the country is currently facing. "Nobody is exempt from the shortages of cash, dilapidated health services sector, no one is exempt from the corruption that has brought our country to its knees, the missing $15 billion (13 billion euros)," he added.
Mawarire, a pastor by profession, said his #ThisFlag campaign has already achieved a lot. The hashtag went viral in April after he shot an amateur video of himself airing out his frustrations with President Robert Mugabe's ZANU-PF government. Since then, Mawarire says more and more Zimbabweans are speaking out against their government.
Zimbabweans get a 'voice'
"Zimbabweans have not been able to speak out against almost anything because of fear. In past times, people have been beaten, jailed and some have even been abducted for taking certain stands," Mawarire told DW.
He said the government must consult with the citizens of Zimbabwe before embarking on certain policies. "We have cash shortages in Zimbabwe currently because the government has been overspending over the years," Mawarire noted. "Now, they have gone and taken our money from our bank accounts to use for themselves, and that's wrong."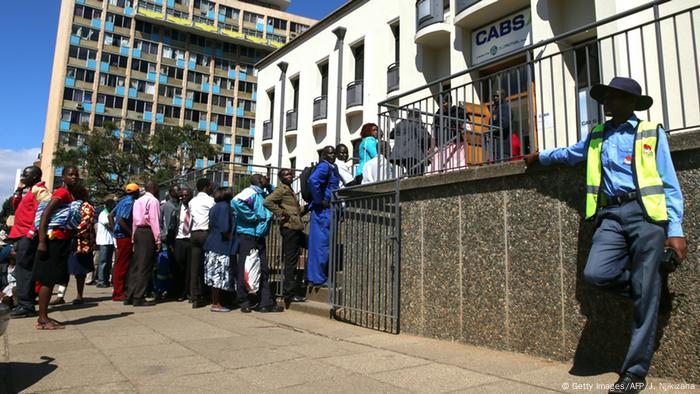 Zimbabwe has been hit by severe cash shortages
Last Friday, there were skirmishes at the Beitbridge border post between South Africa and Zimbabwe over new legislation which restricts the influx of imported goods into Zimbabwe. Despite the violent protests in which a warehouse belonging to Zimbabwe's Revenue Authority (Zimra) and several cars were set on fire, authorities have refused to back down on the controversial bill. Fifty people were arrested in connection with the incident.
Political analysts have warned that Zimbabwe is "on a knife edge." The MDC opposition party, led by Morgan Tsvangirai, has said it supports the revolts which it blames on bad governance. The party's secretary general Douglas Mwonzora told the Daily News they were confident President Mugabe's government is nearing its end. "We know the regime will fall by 2018 [election year]."
The Zimbabwean government, however, blames the unrest on outside forces. State Security Minister Kembo Mohandi was quoted by local daily Times Live as saying the way the operations [protests] had been organized was unlike Zimbabweans.
Teachers, nurses on strike
On Tuesday, Zimbabwean civil servants, mostly nurses and teachers, went on strike to protest the non-payment of their June salaries. Local media reported that the civil servants plan to down their tools for the next three days and will only resume work once their full salaries are paid.
Acting Minister of Public Service, Labor and Social Welfare, Supa Mandiwanzira, told Africanews the government was open to discussion with Apex Council, an umbrella labor union for government employees which has called the strike. "We are waiting for a formal communication with regard to that strike," Mandinwanzira said.
The cash-strapped Zimbabwean government has struggled to pay civil servants as it grapples with a serious shortage of funds. To try and resolve the situation of salaries, the government has opted to pay workers in batches. Reports suggest the military and the police force have now been paid their June salaries, whereas nurses and teachers are to receive their dues between July 7-14.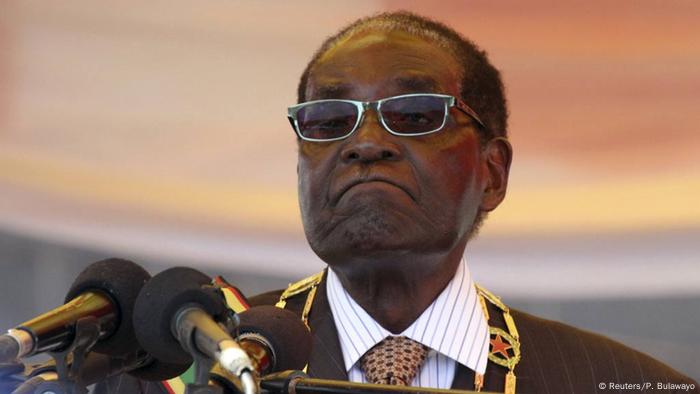 President Robert Mugabe has responded to the growing unrest with more police deployment
Zimbabwean economist Liesl Louw-Vaudran told DW that she sees little chance of the military turning against the ruling party in the short term, even if their salaries are not paid on time. Nevertheless, paying the outstanding salaries is "probably a priority for the government at this point," Louw-Vaudran said.
There are ongoing talks with the International Monetary Fund (IMF) and the African Development Bank (AfDB) to approve loans for Zimbabwe that would enable the country to deal with its financial crisis.