The combination of heat, sun and a good World Cup soccer game this summer was enough to make most people in Germany crave a nice cold beer. Well, it seems as if quite a few people didn't just stick to one or two. One of Germany's top international brands, Beck's, ran out of its highly-desired barley brew in July.
You'd think Germany would have known better. Inviting large numbers of soccer fans -- including some notorious drinkers (no need to name names here) -- in the middle of the summer and then this! The land of beer was far from prepared.
Now, Beck's is having a lot of problems catching up. The company said on Tuesday it wouldn't be able to meet all orders before the end of August.
Beck's advertising paid off
Beck's lager -- which is also brewed in Britain, Australia and the United States -- is produced for the German market at five sites and sold in barrels, refundable bottles and cans.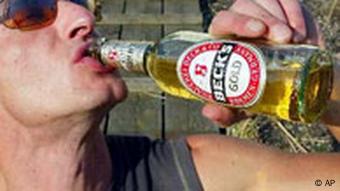 Nothing like a Beck's to quench your summer thirst
After glamorous advertising and deft marketing pushed up demand, the bottled product was the first to run out in July, which set a record in Germany for sunshine hours.
It just goes to show how influential advertising can be.
Too little (beer), too late?
A spokesman for Inbev, the Belgian owner of Beck's since 2002, said it was impossible to forecast when Beck's would catch up. All bottling lines were working overtime.
Beck's, which operates from Bremen in northern Germany, said it will compensate wholesale merchants "in some cases" for the delay.
But with cooler temperatures across Europe and just national soccer to watch, is this a case of too little beer, too late?