The venerable international art exhibition got under way Saturday evening in the fabled northern Italian city with an awards ceremony which saw a German, Tobias Rehberger, a professor at Frankfurt's Staedelschule, taking top honors for Best Artist.
Rehberger won the Golden Lion award for his work "What you love also makes you cry".
The 43-year-old artist from Esslingen near Stuttgart designed the cafeteria in the central Biennale pavillion, which functions both as a restaruant and a multi-facetted artwork.
The USA pavillion won the Golden Lion for best national contribution with an installation by conceptual artist, Bruce Nauman, called "Topological Gardens".
This year's Silver Lion for the best young artist went to the 35-year-old video and animation artist, Nathalie Djurberg, of Sweden.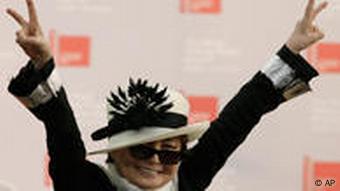 Yoko Ono was honored for her career achievements
Career Golden Lions were bestowed on avantgarde pioneers Yoko Ono of Japan for her trailblazing performance art and on 78-year-old American, John Baldessari, as one of the most important contributors to contemporary concept and video art.
Praising the extraordinarily wide range of exhibits and installations, Daniel Birnbaum, the Swedish director of the Biennale, told press that "we now live in a totally multi-centric art world."
"A work of art is more than an object, more than a commodity," he said, "it represents a vision of the world, and if taken seriously, must be seen as a way of making a world." Birnbaum has been Rector at the German Staedelschule in Frankfurt am Main since 2001.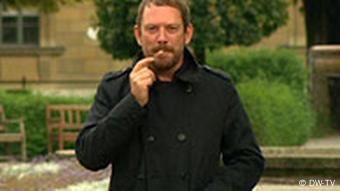 Artist Liam Gillick is Germany's rep
Clean cut modernity
While German artists may be bringing in top honors, this year's German pavilion was designed by a British artist. Liam Gillick is the first non-German to have the honor of a solo exhibition in the space. In 1993, South-Korean born American artist Nam June Paik displayed together with German Hans Haacke. The two won the Golden Lion for their work.
"What I have always like about the way it is done in Germany, is that the curator is given a lot of freedom," Gillick said in an interview with Deutsche Welle. "The decision as to who the artist should be is not a political decision. It is coming from a specialist who is an expert in the field." Nicolaus Schafhausen was chosen to curate Germany's space for the second time this year.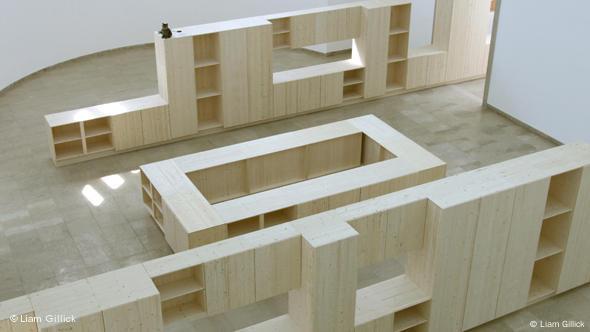 "How are you going to behave? A kitchen cat speaks" is the name of Gillick's piece
Gillick's work has changed the German pavilion into what appears to be a stringent, bare kitchen -- a possible reference to the iconic Frankfurter Kitchen. Gillick likens the kitchen to something "between Ikea and something much more modern."
"It is a kind of alternative modernity. It is not about grand symbolism, it is not about over-reaching ideology. It is that other modernism, the one that leads to the contemporary kitchen in a way," he said.
The Biennale this year features 90 artists from 77 countries and runs through November 22.
gb/dpa/AFP/DW
Editor: Kateri Jochum