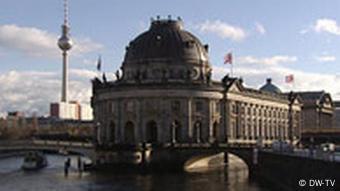 Museum Island with Bode Museum
The Foundation of Prussian Cultural Heritage was established fifty years ago by the German Federal Government and the 16 German states. It is Europe's largest cultural complex with 2000 members of staff and encompasses a total of 17 museums, libraries and research institutes.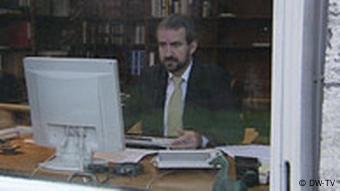 Hermann Parzinger in his office at the German Archaeological Institute
Until now Hermann Parzinger was head of the German Archaeological Institute which he expanded and modernised. The charismatic intellectual from Munich quickly became one of the most renowned contemporary researchers of the antiquity. Parzinger speaks ten languages, and is an expert on making science "public knowledge". His great passion is field research. The find of a 2500 year old mummy in Mongolia found widespread interest. The spectacular excavations from his German-Russian expedition to southern Siberia can be seen in a major exhibition about the Scythians, an Iranian nomadic people. Parzinger discovered the tomb of a wealthy Scythian warrior from the 7th century BC.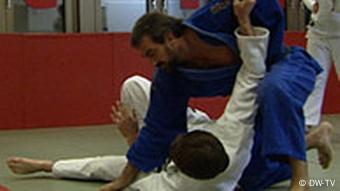 Judo Practice in Berlin
DW-TV author Daniela David and her team accompanied Hermann Parzinger at work here in Berlin at Peter Behrens' Wiegand Villa, the headquarters of the German Archaeological Institute. The film shows the Leibniz award winner lecturing students at a Berlin university, at judo class and at home with his family.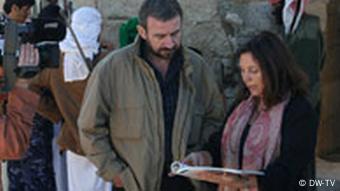 Hermann Parzinger speaking with Iris Gerlach in Yemen
The team also accompanied the archaeologist to Egypt, where the German Archaeological Institute in Cairo celebrated its first centenary. The film also features a rather dangerous trip to Yemen where Parzinger's staff are carrying out excavations in difficult conditions.
Hermann Parzinger in the Pergamon Museum
Hermann Parzinger also enters his "new" world, accompanied by the DW-TV team. A visit to the famous Pergamon Altar in Berlin's most frequently visited museum of the same name in the heart of the German capital, as well as a visit to the site where the former East German parliament building is to be replaced by the reconstruction of the Berlin Palace which will house the Humboldt Forum. Furbishing this major project will be one of the major challenges facing Hermann Parzinger as future President of the Foundation of Prussian Cultural Heritage.
Broadcasting Times:
DW-TV
SUN 24.02.2008 - 18:30 UTC
MON 25.02.2008 - 06:30 UTC
TUES 26.02.2008 - 00:30 UTC, 12:30 UTC
DW-TV USA/LATIN AMERICA
SUN 24.02.2008 - 18:30 UTC
MON 25.02.2008 - 06:30 UTC
TUES 26.02.2008 - 12:30 UTC