Holding a hammer, Marcel Hamat walks through his house, or what remains of it. For the first time, the 52-year-old has returned to his hometown, Iyeda, after it was attacked and nearly razed to the ground in October 2016.
The village is located between two fronts. In the west, the Koui neighborhood is controlled by the 3R militia (retour, reclamation, rehabilitation), an armed group of predominantly Muslim cattle-herders of the Peuhl community (also called Fulbe). In the east, lies the city of Makunzi Wali, ruled by the anti-Balaka, a majority Christian militia.
Iyeda is now a ghost town. Hamat's house was burnt down and so was that of his relatives next door. "That's what the Peuhl [people] did here," says Hamat as he breaks the last metal remnants from the wall, which he still hopes to use. With the scrap metal, Hamat makes his way to Makunzi Wali, where he has now found refuge. As a Christian, he is under the protection of the anti-Balaka. They earn money by accepting bribes at checkpoints and receiving cash payments from businessmen in exchange for securing their business premises.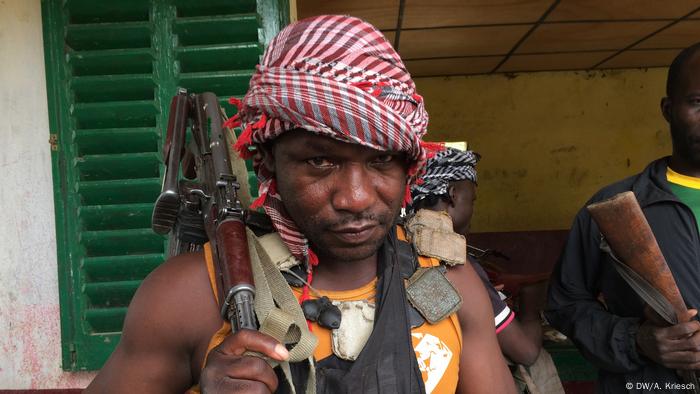 Anti-Balaka's leader Colonel Goumou Passy: 'We are at war'
Colonel Goumou Passy is one of the anti-Balaka leaders. His troops look intimidating: woozy from drugs, armed with hunting guns and covered with charms and amulets to protect them from the bullets of their opponents. Passy's biggest enemy is the 3R militia in Koui. For weeks now he has blocked aid supplies to Koui, which has aggravated the humanitarian situation in the region. "This is a war and each side has its own strategies," he told DW. "We have just decided to cut off the [aid] supply for a while."

Caught between the fronts
For years, a war has been raging in the Central African Republic. In October 2013, the Seleka group, made up of a Muslim majority, rebelled against the government, accusing it of neglect and marginalization. They plundered entire towns and villages, leading to the formation of the anti-Balaka movement. Originally, a defense group comprising a majority of Christians, over time, the militia fell into the hands of uncontrollable gangs of armed youth.
In 2016, CAR voters elected an official government, but its power and control does not extend outside the capital, Bangui. Instead, the country has become increasingly polarized along religious and ethnic lines. Fourteen armed rebel groups are now active in the country. There are frequent clashes in which the civilian population is caught between the fronts. In the region around Koui alone, 15,000 people have had to flee their homes in recent months.
In Koui, Commander Sidiki Abass is the man in charge. Wearing a turban and white robe, he stands in front of his house, guarded by heavily armed men. Once a cattle herder, Abass is now the leader of the 3R rebel group. According to his own account, he has more than 1,000 fighters.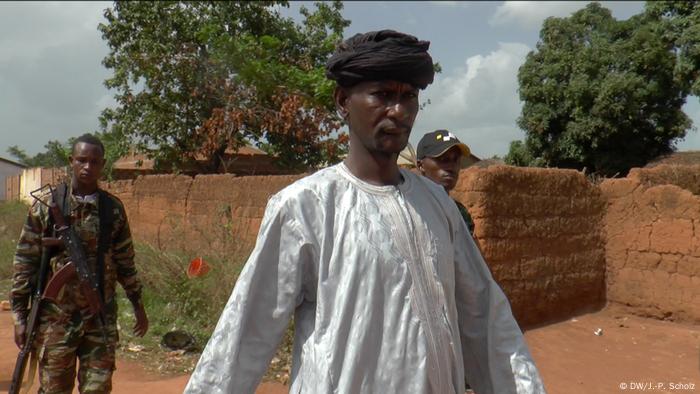 3R militia leader Sidiki Abbas says the government is not assuming its responsibility
International rights group, Human Rights Watch, has accused the group of carrying out human rights violations which include torture and rape. Abass has denied this. "We Peuhl are not safe here. We are constantly being attacked by bandits and anti-Balaka," Abass told DW. "The government does not take responsibility, so we have to do that."
"If the 3Rs disappeared, it would be a disaster," explains the mayor and sultan of Koui, while receiving representatives from relief organizations, as well as journalists, in his sparse palace. "The anti-Balaka wants to expel all Muslims here. They have brought so much disaster. Countless Muslim houses and villages have been burned down."
Adamou Dawda Yaya fears another anti-Balaka attack could be imminent. The 3R recently attacked a nearby anti-Balaka stronghold. But the sultan chooses his words cautiously, avoiding any criticism of the 3R.
An appeal for peace
While the sultan is speaking with journalists, a group of men are patiently waiting in his reception room; five pastors and an imam.
Together, they have written a letter in which they demand an end to the conflict.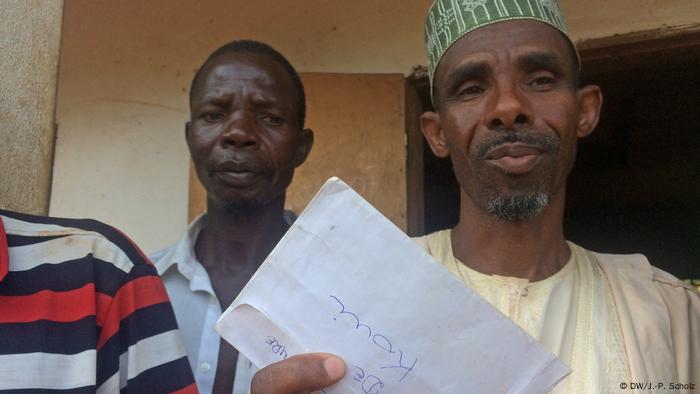 Muslim and Christian leaders in Koui are hoping their letter will usher in peace in CAR
"There is no difference between the Muslims and the Christians here," says Pastor Leon Dollet, as he gives the letter to an aid worker. "We have always lived in harmony," Dollet tells DW. "It is the 3R and the anti-Balaka who are causing tensions. But we want to live together peacefully again. And we want the displaced people from the neighboring villages to return and live with us again."
Marcel Hamat would like to return to his village with his family, but at the moment that is unthinkable. Using the remains of his burnt house, he now wants to build a new place in Makunzi Wali. "What happened has happened," says Hamat. "But I'm not angry. We just have to look ahead into the future."