In Germany, the eastern state of Saxony-Anhalt is well-known for its large coal mines. But soon it could be famous for helping Germany to reach its climate targets.
Germany is struggling to reach the climate goal of reducing its greenhouse gas emissions by 40 percent by 2020, compared to 1990. One reason for this is that the low price of CO2 certificates and coal has triggered a boom in coal-based power. Thus the lower-emission gas power plants were forced out of the electricity market. On December 3rd, the federal government unveiled is "Climate Action Plan 2020", with measures to reach the climate targets.
Around the country, solutions are being tested in model regions, such as the eastern coal mining town Dessau. Here, the famous Bauhaus foundation, the state energy agency and public utility have teamed up to create what they call the 'energy avant-garde' movement to develop new concepts for energy production.
Renewable energy in a coal mining town
Until now, Thomas Zänger the managing director of public utility company Dessauer Stadtwerke has been using old, dirty lignite or brown coal power plants to provide his customers with cheap electricity. But this will soon be a thing of the past: Zänger has joined the 'energy avant-garde' and is convinced that the future of energy production lies in decentralized and renewable energies.
Soon, the old power plants have served their time and have to be replaced. Zänger doesn't only want to replace them with green energy, but also wants to adopt a decentralized approach. "Replacing the old plants one by one doesn't make sense economically. Rather than having one big plant, we should have several smaller ones, which can be operated more flexibly depending on demand," Zänger told DW.
When Zänger's facility produces excess electricity, he doesn't want to simply turn off the wind turbines or solar systems. Instead, Zänger's company intends to invest in a thermal storage system. If the solar energy could be stored in this way, it could oust coal from the energy mix.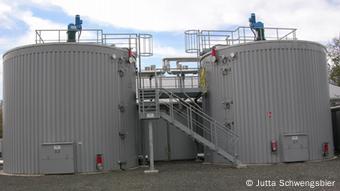 Dessau is going green with renewable energy
Joint action for the climate
Throughout its development, the energy avant-garde project has involved locals right from the start. Babette Scurrell, a research fellow at the Bauhaus Dessau, a well-known centre for research and experimental design, is amazed about the level of involvement from locals. "It's included small companies like those which make switchboard equipment, and organizations like the eastern German gas and energy association. I think it's awesome that there's such a buzz here, and that every contribution towards the renewable energy revolution is valued, no matter how big or small it is."
The Bauhaus art and architecture centre has long been one of the most important centers of transformation in Dessau. And it has also helped with environmental processes. It provided ideas which formed the basis of the first successful structural renewal of the region: Turning an old surface mine into a leisure area and tourist attraction with a whole series of lakes.
Just 20 years ago, giant excavators were still digging out coal. Nowadays it's one of the most popular event venues in eastern Germany. First, the concert-goers and tourists arrived, later came investors. From then on, the state of Saxony-Anhalt grew into one of the most important location for renewable energies in Germany.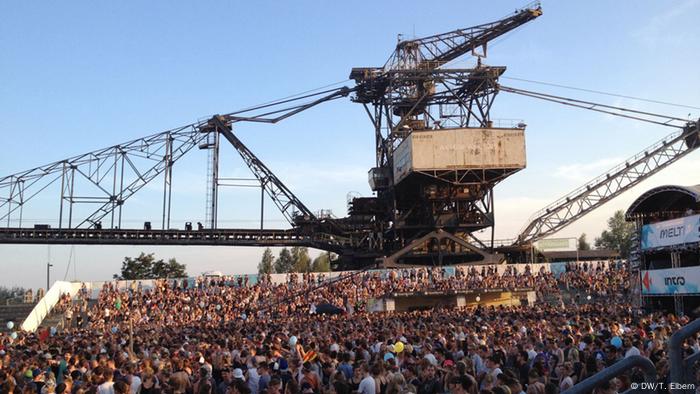 The former coal mine was transformed into a festival area.
If they can do it, anyone else can as well
Marko Mühlstein, manager of the state energy agency, is proud of the environmental achievements."We have 2400 wind turbines and more than 330 biogas plants. Every second kilowatt hour consumed in Saxony-Anhalt, comes from renewable sources," he says.
Moving away not only from opencast lignite mining in Saxony-Anhalt, but also replacing the conventional large-scale power plants with decentralized renewable energy, is revolutionary in this area. It will take Dessau's 'energy avant-garde', the state energy agency and the public utility company to the forefront in the battle to combat climate change. And they send a clear message: If this coal mining town can go green, any other town can do too.
Germany is struggling to meet its 2020 climate targets. Now climate solutions are being tested across the country in what's been dubbed Germany's 'energy avant-garde.' And it's happening where it's least expected.