Seeking to calm fears his military government might delay plans to restore democracy, Thai Prime Minister Prayuth Chan-ocha said Tuesday that elections would go ahead as promised.
"The people have passed the referendum and according to our roadmap, elections will be held in November 2017," Prayuth told reporters in Bangkok.
"Please have confidence in the roadmap."
A new constitution was a key part of the junta's "roadmap to democracy," which it set out after toppling ex-Prime Minister Yingluck Shinawatra in a coup in May 2014. The military-drafted charter was put to a referendum on Sunday.
According to preliminary results, 61 percent of Thais voted to endorse the document, while 39 percent rejected it. Turnout was around 55 percent. Prayuth said he would make a televised statement on his government's next steps after full referendum results are released on Wednesday.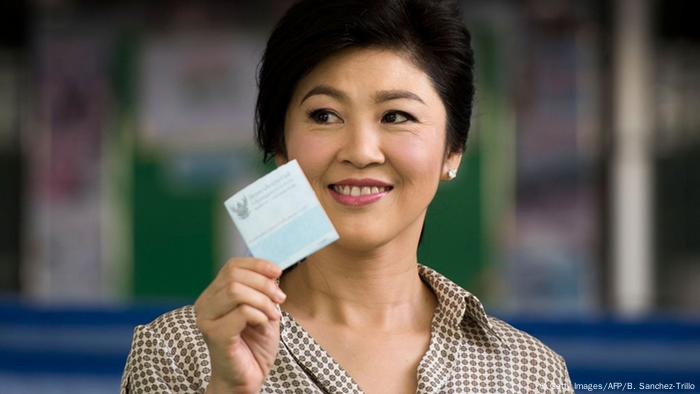 Former Thai Prime Minister Yingluck Shinawatra casts her vote in Sunday's referendum
Criticism of vote
The military restricted campaigning and open debate about the constitution in the leadup to the vote, which was largely seen as a test for the popularity of Prayuth's government and its plans to restore civilian rule.
Critics have warned that the new charter will stifle democracy and grant the military too much control over the next government. Under the charter, the junta can appoint the entire upper house of parliament and have veto power on constitutional amendments. Many key governing bodies, courts and agencies will also remain under the military's influence, according to the document.
The Thai leadership insists the constitution will help root out corruption and restore stability to Southeast Asia's biggest economy after a decade that has been marked by political turmoil and periodic outbreaks of deadly civil unrest.
Since a 2006 coup, power in Thailand has flipped between elected governments led by or linked to self-exiled billionaire Thaksin Shinawatra and rule by the army and its establishment allies. In May 2014, Thailand's last democratically elected government, headed by Thaksin's sister Yingluck Shinawatra, was ousted by the military, following months of street protests.
Following Sunday's vote, both the United States and the European Union urged Thailand to take steps to restore an elected civilian government and lift its imposed curbs on civil liberties as soon as possible.
nm/kl (AFP, Reuters, AP, dpa)