A bitterly cold afternoon in Berlin. Outside people holding shopping bags trudge through the snow. Others hurry to catch overcrowded street cars. Terezia Mora has taken refuge in a small movie theater tucked away in a back courtyard. The windows are fogged up, and a yawning emptiness fills the space. She finds immersing herself in a film, with the entire screen to herself, to be a beneficial distraction from writing.
Freedom in Berlin
It's also a reminder of the 1990s, her early days in Germany, where she had come from Hungary to study. "I loved this sort of run-down and culturally charged place," she says. "For me, that meant freedom. And you can simply be freer in Berlin than in a small Catholic village."
Mora was born in just such a village. Her family belonged to Hungary's ethnic German minority. Berlin just after the fall of the Wall was liberation for her — a departure from a strict, communist society and an arrival in an unfinished city that embraced experimentation. Mora began to study screenwriting.
The language of others
She wrote her first literary texts in German and shared them at a public book reading, more out of curiosity than anything else. She almost immediately received a contract from a well-known publishing house.
Mora tells stories of a no-man's-land, somewhere between Hungary and Austria. The language of her own books is German; Hungarian is the language of others. She works on the side as a translator, adapting literature by the famous Hungarian author Peter Esterhazy into German. For Mora, writing is somehow related to time, to the ordering of memories, to letting thoughts sink in.
Characters hanging upside down
Her books deal with communication, with people who are linguistically uprooted and can't find emotional stability. These figures that she slips into are often odd men, such as in her debut novel, Day In Day Out. It's the story of a refugee who was born in a country that ceased to exist a long time ago. The former Yugoslavia may come to mind. The book's hero finds his way to Germany, just like Mora.
Abel Nema is a genius who is fluent in 10 languages, but who can't really communicate in any of them. Even his name reflects this: Nema has Slavic roots and means "the mute one." He's a bizarre figure, found in the first pages hanging upside down on the jungle gym of a playground, his feet taped to the metal poles.
"Panic is not the condition of man; panic is the condition of this world. The unknown quantity P."
This unique man falls apart, more because of himself than because of the world. Mora describes this with great artistry that avoids becoming overly declamatory. She changes moods and perspectives masterfully and instantly. Intense inner monologues collide with dry commentary and flow into meticulously detailed observations.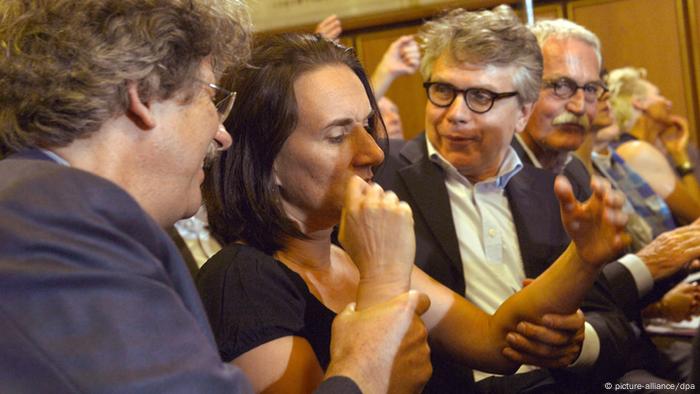 Mora reacts to winning the German Book Prize in 2013
Overcoming the 'foreigner' label
Mora dissects the German language, exploring all its possible depths. This mastery earned her two of the most important prizes in the world of German-language literature: the German Book Prize in 2013 and the Georg Büchner Prize in 2018.
And yet Mora was repeatedly slapped with the foreigner label, especially when she first began writing. "That annoyed me for a while. And then I decided not to respond to any more reader requests that addressed me as Hungarian," she says with a self-satisfied grin.
She dislikes the cliché of a naïve writer. For her, writing means looking closely at the point where boundaries fade away and the moment when certainties evaporate. You can only do that, Mora says, when you're well-grounded in life.
Terezia Mora: Day In Day Out, Harper Collins Publishers, (German title: Alle Tage, 2004). English translation: Michael Henry Heim.
Mora was born in 1971 in Sopron, Hungary, and has been living in Berlin since 1990. She is one of the most renowned translators of Hungarian literature. Since 1999 she has published stories and novels, many of which have received important literary prizes. She received the 2013 German Book Prize for her novel The Monster. In 2018 she won the Georg Büchner Prize for her body of work.