Around midnight a horde of people gather at a cemetery in the bustling Sinza suburb of Dar es Salaam, not to mourn their loved ones, but rather to scramble for a space between graves to have sex. Their actions occur in full sight of the passing motorists.
"We ask for 10.000 Tanzanian shillings ($4.5, 4.1 euro) for a short time, otherwise we say 'twende kwa babu' [let's go to the watchman's pavilion]. There's a mattress there but you will have to pay 15.000 shillings," said Eliza A., a commercial sex worker dressed in tattered jeans shorts and a short top with a low cleavage.
Despite the silence and darkness, the cemetery is where the prostitutes take turns to entertain their customers. During the day time, the cemetery is littered with hundreds of used condoms.
"It's not that people who come here for sex do not have money, some of them are ashamed of being spotted in guesthouses. That's why they prefer this place," Eliza said.
Eliza explained that by using the burial grounds, they save money they would otherwise use for renting a room in a guesthouse. It's also a perfect location to hide from the police.
Police formerly only arrested the sex workers
Increase of young teenage girls in prostitution
Tanzanian authorities recently voiced their concern over the increase in prostitution, especially among young teenage girls. The police were ordered to carry out series of raids on locations frequented by sex workers.
Tanzania has a very conservative society and many people describe the practice as "moral decay." Many young children are said to be pushed into prostitution by their parents, a family member or by their need for money to fit in among their peers.
"I work in a hairdressing salon during the day but do not make enough money to meet my needs, that's why I come here to market myself," Eliza said.
The police have been rounding up hundreds of commercial sex workers in the capital, Dar es Salaam. The target, however, is not only the girls but also the men who are paying for sex, according to Simon Sirro, Special Zone Police Commander at the Dar es Salaam police.
"I believe that the illegal business will stop if the law will be tough against both prostitutes and their clients," Sirro said. According to the police commander, prostitution cannot flourish in the absence of customers who he thinks are promoting it.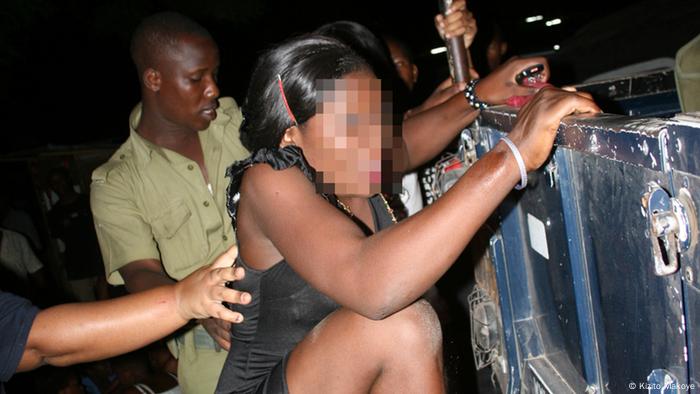 Arrested sex workers are often released since prostitution is a minor offense in Tanzania
Crackdown on men who pay for sex
This is the first time the police are targeting men buying sex. Observers, however, think that the move will disrupt the practice but will not stop it entirely.
In Tanzania, prostitution is considered as a mere misdemeanor under the country's penal code. The government had been reluctant to push for tougher laws and public prosecutors had also refused to institute serious charges against the young teenage girls. In the eyes of the law, prostitution is a minor offence.
Previously, the police had only arrested commercial sex workers only and let the men off the hooks. The recent decision to arrest the men as well signals that the government is planning to introducing new laws against prostitution.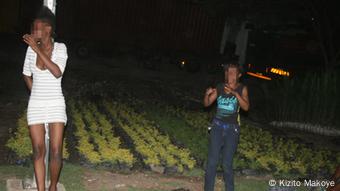 The number of young teenage girls in prostitution has increased in Tanzania
Around dawn, a visibly tired Amina H. stands on the roadside around Corner Bar, a favorite spot for sex workers in Dar es Salaam, waiting for passing motorists. The 17-year old was a house maid in Iringa region. She came to Dar es Salaam to look for a job but ended up working in prostitution.
"I stay with my friend. We share a room and pay rent together. I don't have any other job. That's why I am selling myself. I am ashamed of it but what else can I do?" she said.
Speaking on international women's day, Tanzania's Minister of Health, Gender and Children, Ummy Mwalimu, said arresting men who buy sex will help to end prostitution.
"I commend the police force for taking this step because both sellers and buyers of sex have committed an offence which deserves to be punished," she said.
Critics however doubt whether the campaign will succeed since cash-strapped police officers are often involved in the dealings.
"Sometimes when a policeman arrests you, he asks you for money. If you do not have the money, he forces you to have sex with him," sex worker Eliza M. said.