The TransAsia passenger plane crashed on Wednesday into Taipei's Keelung river, after hitting a bridge shortly after takeoff, according to reports.
More than 50 people were aboard the ATR 72-600 turboprop plane. Local TV images showed police and firemen trying to rescue passengers from the water.
The Taipei city government said, quoting the fire department, that 28 passengers were sent to hospital.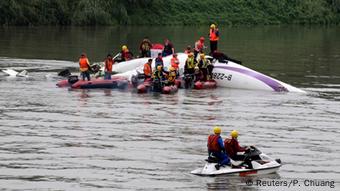 Rescue workers reported that some of the people pulled from the water were not showing life signs
Early reports on the number of casualties varied, state media reported that eight people were feared dead.
Flight GE235 was on a domestic flight to Kinmen Island. Taiwanese broadcaster TVBS reported that roughly half of the passengers were from mainland China. Kinmen lies just off the Chinese coast, making it a common route back to the mainland from Taiwan.
Last July, more than 45 people were killed after a TransAsia turboprop plane crashed in stormy weather in the Penghu Islands, off the Taiwanese coast.
jr/msh (AP, AFP, dpa)