A controversial investigation into German tax-evaders with Swiss bank accounts could yield more money for the taxman than had been thought, according to German daily newspaper Suddeutsche Zeitung.
Some 200 million euros in recouped taxes could be raised, Sueddeutsche Zeitung journalist Hans Leyendecker told public television channel ARD on Wednesday evening. The probe comes after the German government bought a CD containing details of about 1,500 alleged tax dodgers. The figure is twice the amount previously estimated.
Internal documents from the bank Credit Suisse reveal that the extent of tax evasion might go further than had been thought, according to the newpaper report. The majority of its German customers might have hidden their money, the bank document is reported to have said, with many eager to have as little contact with bank as possible, to avoid detection.
Give it up
German Finance Minister Wolfgang Schaeuble has asked tax dodgers to turn themselves in following Berlin's decision to pay a whistle-blower for a list of alleged suspects who have stashed money in Switzerland.
"I can only advise anyone who thinks he may have evaded taxes in the past to use the provisions in our tax code to declare it voluntarily," Finance Minister Wolfgang Schaeuble told the Augsburger Allgemeine daily in an interview.
The German government agreed to pay a reported 2.5 million euros ($3.5 million) to an informer for the list of those alleged to be hiding money in secret accounts.
A handful of other European countries have lined up behind Germany, with the Netherlands, Belgium and Austria having all reportedly expressed interest in obtaining a copy of the latest CD.
"Should there be evidence that the CD [with the stolen bank data] contains information on Austrian taxpayers, we would naturally have great interest in analyzing those," a spokesman for Austrian Finance Minister Josef Proell was quoted as saying to Der Standard newspaper.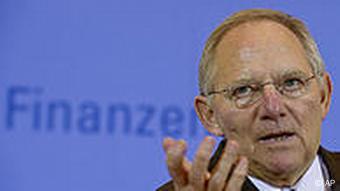 Wolfgang Schaeuble appealed to suspected tax evaders
A Dutch finance ministry spokesman said the Netherlands, where Deputy Finance Minister Jan Kees de Jager is pushing through a crackdown on tax-dodgers, told Berlin he would be interested in having any data on Dutch taxpayers, news agency Reuters reported.
Liechtenstein precedent
The affair has soured relations between Germany and its Alpine neighbor, which sees the purchasing of the disc as another attack on its cherished banking secrecy.
"Here we have a new form of bank robbery," Swiss lawmaker Pirmin Bischof told Germany's Deutschlandfunk radio. "Before, you had to go to the bank and get hold of the money with a weapon. Today you can do it electronically by stealing data."
But Schaeuble has said that the government would be legally justified in buying the stolen data. Chancellor Angela Merkel said on Monday she was in favor of acquiring the CD.
"In principle, the decision was made two years ago," Schaeuble told the Augsburger Allgemeine newspaper, referring to a similar case in 2007, when the government handed over as much as five million euros for stolen tax data from Liechtenstein.
Party divided
Controversy over the CD has led to a row developing within Merkel's Christian Democratic Party (CDU). The party's economic affairs council has spoken out against the move.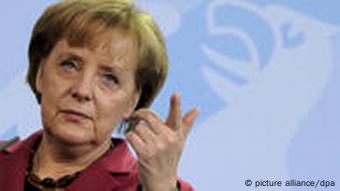 Merkel wants to be tough on tax evaders
"The state is obliged to use all legal means to arrest the man who has stolen the data," council chairman Kurt Lauk told Tuesday's edition of the Koelner Stadt-Anzeiger newspaper.
The deputy leader of the CDU's parliamentary faction, Guenter Krings, urged his superiors to proceed with caution. "It would be good if we got the data and could get at those tax evaders," he told the Koelner Stadt-Anzeiger.
But Krings insisted that to cooperate with criminals should remain an absolute exception. "If we start setting this example, there is a huge risk that criminals double their money."

Siegfried Kauder, chairman of the German parliament's judiciary committee, and also a member of the CDU, advised against a deal. "We're sending data thieves a message: if you steal, we'll buy it off you," he said.
rc/dfm/bk/rb/dpa/apn/AFP
Editor: Rob Turner