Swiss banks UBS and Credit Suisse should be subjected to stricter capital requirements than their international peers, an expert panel appointed by the government recommended on Monday.
Switzerland, which had to prop up UBS during the financial crisis, had asked a panel of bankers, regulators and other experts to suggest ways to prevent future crises and bailouts.
Beyond Basel III
The panel recommends that both UBS and Credit Suisse be required to hold total capital equal to at least 19 percent of their assets - almost twice as much as the 10.5 percent the international Basel III accord, announced on September 19, requires banks to hold.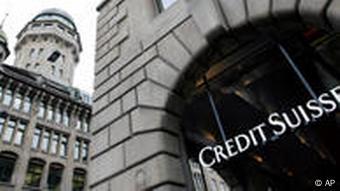 The Swiss proposals go beyond international standards
By 2019, the banks need to have a common equity ratio of least 10 percent, a measure designed to help them absorb possible losses. Under the Basel III regulations, banks are required to have 7 percent of common equity.
The proposals reflect the sheer enormity of the two banks, whose total assets are more than four times the size of Swiss economic output.
Regulators welcome proposals
"The Swiss National Bank and the Financial Markets Authority (FINMA) regard it as essential that the committee's proposals are implemented in their entirety," they said in a statement.
The proposals will have to be endorsed by the government and parliament.
UBS and Credit Suisse have both said they can meet the requirements, with UBS saying it was "well-positioned to fulfill the new requirements…well before the effective date of [the end of] 2018."
Credit Suisse noted that, "despite these very tough measures, it can meet the new requirements within the prescribed time frame."
Author: Nicole Goebel
Editor: Jennifer Abramsohn