Only 21 percent of Germans stated that they were satisfied with the left-right government of the center-left Social Democratic Party (SPD) and conservative Christian Democrats, a decrease of 11 percent from a similar poll taken in mid-May.
The survey, conducted by the TNS Infratest institute for the weekly news magazine Der Spiegel, showed that around 77 percent were unhappy with the government's work, an increase of 11 percent of unsatisfied citizens from the poll taken two months ago.
The reasons behind the faltering lack of faith in the German administration appears to stem from the increasingly public rifts between the coalition partners, unusually high tax increases and unpopular health insurance reforms.
Merkel's popularity remains healthy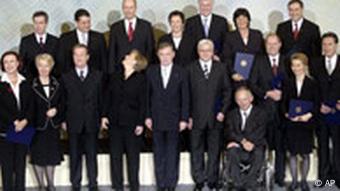 When the government took office, it was the start of a long honeymoon which now looks over
However, while the prolonged honeymoon of the government which began after it took office in November looks to be over, Chancellor Angela Merkel herself remains popular despite a slight slip in ratings.
In May, 64 percent of Germans were satisfied with Merkel's work. Sunday's poll put her approval rating at 54 percent. Those unhappy with the chancellor rose to 45 percent from 35 percent in the previous poll.
Merkel enjoyed a sustained early popularity rating due to a round of highly impressive performances on the international stage and a pragmatic approach to domestic governance at home. The dip in approval could be attributed to the overall performance of her government, the survey suggested.
Germans see chancellor as "important"
More encouragingly, 70 percent of Germans wanted Merkel to play "an important role" in future -- a key measure of popularity. At the peak of the government's popularity in January, Merkel was unequivocally the most popular politician in Germany with 85 percent support.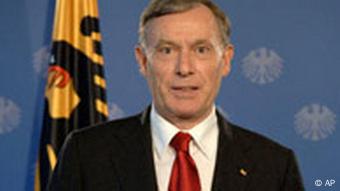 President Köhler is number one in the popularity stakes
Sunday's score -- seven percentage points less than in May -- put Merkel in second place in the popularity stakes behind President Horst Köhler, who remains widely appreciated with 74 percent.
Behind the chancellor in third place is Social Democrats' leader, Kurt Beck, with 60 percent support, a drop of six points from May's poll.
The poll of about 1,000 people was conducted on July 25 and 26. It gave a margin of error of plus or minus three percentage points.