This week's edition of Deutsche Welle's Music This Week pays tribute to the man who composed what is still regarded as Austria's unofficial national anthem, "The Beautiful Blue Danube." Written in his home on elegant Praterstrasse in 1867, the composition is world-famous and is still, for many, a synonym for the Viennese way of life.
His German contemporary, Johannes Brahms, himself a composer of waltzes, allegedly said of the iconic piece: "Unfortunately not by Johannes Brahms." A cheeky and fitting tribute to one of classical music's best-loved works.
Waltz mania sweeps Europe
The waltz played a major role within the Strauss family. Johann Strauss I was himself a gifted composer and found competition in his talented son for musical supremacy in Vienna. After Strauss Sr.'s early death in 1849, his son took up the baton and ran, quickly establishing himself as a master of his craft and initiating a massive wave in popularity for the waltz across Europe.
He became Imperial and Royal Music Director of the Court Balls and a favorite among Russian nobility, giving annual summer concerts in Pavlovsk, the Imperial estate near St. Petersburg. He played at the World's Fair in Paris in 1867 and enchanted British and American audiences.
Waltz-fever spread to the United States and in 1872, Strauss appeared at the World Peace Jubilee in Boston where he led 20,000 orchestral musicians and singers for an audience numbering 100,000.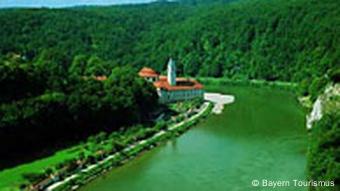 Strauss paid tribute to the Danube River in what is arguably his most famous work
Always the composer
Strauss was a dashing bandmaster and very popular among women. However he was also a diligent composer and devoted to music, jotting down notes and ideas on everything from tablecloths to paper currency. In his lifetime, he wrote some 500 waltzes, polkas, quadrilles, marches, mazurkas and galops and 15 operettas.
Although entering operetta territory relatively late in life, his works "Die Fledermaus" (The Bat) and "Der Zigeunerbaron" (The Gypsy Baron) are two of his most famous works. A line from "Die Fledermaus" - "Gluecklich ist, wer vergisst, was nicht mehr zu aendern ist," (He who forgets what can't be changed, is happy.) entered into common use in the German language.
After a long and illustrious career, Strauss succumbed to pneumonia and died in 1899 at the age of 73, yet his works live on and are still enjoyed in concert halls around the world.
To find out more about Johan Strauss II and to hear excerpts from some of his compositions, follow the link below (MTW43: Johann Strauss) and listen to our current edition of Music This Week.
Author: Suzanne Cords (nl)