DW: At the end of 2014, your remix of the song "Cheerleader" became a worldwide hit. With it, you were the first German to have landed in the US charts in 26 years. Now you're releasing your first album on February 16. Why has it taken you so long?
Felix Jaehn: It took so long because I had to develop into the role of producer. After all, I got started just by making music on my laptop and then I suddenly had these hits. So the bar was already quite high, as were the accompanying expectations. I needed the time to find my own sound, to travel, to perform shows, and to work with other musicians and singers.
How was the work different on the album "I" than it was from the other songs you produced?
With an album, you don't have the pressure like you do when you're debating whether a single song is catchy enough or not. Does it work on the radio? Does it work on Spotify? Can people listen to that as a single? On an album, you also have songs that are a bit slower, or a little more melancholy, or whose arrangements are a bit longer or more complex and it takes a while to get into them or go on the journey where a song takes you.
Read more: Superstar DJs from Germany: A Global Success Story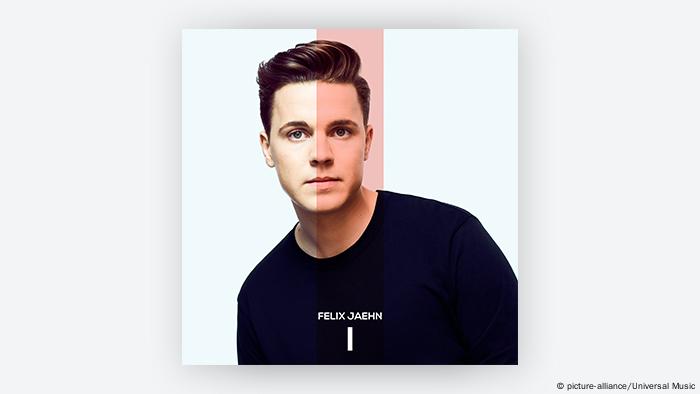 The cover of his album, "I"
Which experiences flowed into the album?
I had songwriting sessions in Copenhagen, in Amsterdam, in London. I was in a studio in L.A. Everywhere. And then, of course, other moments and influences flowed into it, which you can hear in the sound. You go through different phases.
Two years ago, I maybe liked a different sound or thought a particular synth was exciting, but something I would no longer use today. Still, they are in those songs. Since I know when and where the songs were written, I can hear that in them and connect those moments with the song.
In the end, it was a challenge for me to bring all those things together into an album that is harmonious.
Read more: Felix Jaehn - A chat with the star DJ
You travel to a lot of big cities, but you chose to move into a house out in the country, close to where you grew up in Lübeck, on the Baltic Sea, in Mecklenburg-Western Pomerania. Why did you make that decision?
I feel very connected to the place where I grew up. I still have a lot of friends and family in the area, and it's really important to me to maintain these friendships. They are people who have known me since the fifth grade, people I grew up with.
On the other hand, I really enjoy the Mecklenburg-Western Pomerania region, and the Baltic Sea as a calm anchor. I come back from these big cities, from this crazy lifestyle, from all this stimulation that I'm confronted with, and can simply turn off and relax. You don't hear anything, you don't see anything. You can just stare out at fields, and every now and then a crane will fly by. I think it's a wonderful way of enjoying peace and quiet, something which I really need in order to regain my strength.
Read more: Superstar DJs from Germany: A Global Success StoryWhat are the goals you have set for yourself for the next few years?
For me, the main thing is that I continue to create music. Whether or not the album is contemporary or not will just have to present itself. Of course, we'll see how this first album will do and if people like it. I mean, 25 songs are a lot. I think, for instance, Camila Cabello produced an album with 10 tracks on it, and under 40 minutes of playing time. Maybe I won't just release an album every three years, but maybe I'll bring out a mini-album every year instead. Or I'll just keep creating singles.
In general, it's important to me to continue doing the balancing act between pop and dance music. There are songs that are meant to be played in clubs and at festivals, and those which are more pop songs, with a lot of live instruments. And in addition to creating music, I will continue to tour. The live tour is coming up, and then all the festivals in the summer. I hope I can continue doing this for many, many years. But how long that will be, I can't say. I think it's important to listen to one's inner voice and see if you still like this intense lifestyle.