On Tuesday, Prime Minister Mariano Rajoy said that his government would scrap plans to restrict abortions, following months of protests from women's groups and the opposition. He said that the government was not able to reach a consensus on the issue.
"A withdrawal is the most sensible solution," Rajoy said. "We do not want to pass a law that will only be changed again after a government transition."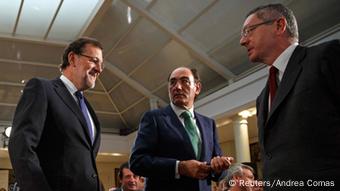 Ruiz-Gallardon (right) quit the government of Rajoy (left) in protest
Justice Minister Alberto Ruiz-Gallardon, who had spearheaded the proposal, resigned from Rajoy's conservative Popular Party (PP) as a result, saying he was quitting politics after 30 years.
Spain, like the majority of countries in Europe, currently allows abortions without restrictions within the first 14 weeks of pregnancy. The bill proposed making abortion permissible only in the case of rape or if a serious health risk to the mother was apparent. The contentious plan had prompted rallies both opposing and supporting the idea in the predominantly Catholic country. Opposition parties welcomed Tuesday's decision to drop the bill.
"We are celebrating this withdrawal," Carmen Monton of the opposition Socialists said. "It was about time Rajoy realized he cannot meddle with women's freedom."
Friction even within ruling PP
The prime minister said his government would instead seek to modify Spain's existing laws, passed by the previous Socialist government in 2010, so that young women aged 16 and 17 could not terminate a pregnancy without their parents' consent.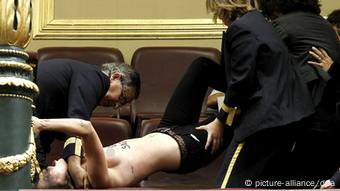 Women's rights group 'Femen' protested in Spain's parliament over the issue
Abortion reform was a part of Rajoy's general election campaign in 2011, although economic policy dominated the campaign trail as Spain battled high public debt and rising unemployment. The PP has an absolute majority in Madrid, but the abortion proposals had also caused frictions within the ruling party's ranks.
Abortion was first decriminalized in Spain in 1985 for cases of malformed fetuses, rape or potential physical or psychological damage for the mother. The 2010 reforms allowed abortions in all cases within 14 weeks of conception, and after up to 22 weeks in cases of severe abnormalities, putting Spain broadly into line with European norms.
msh/mkg (AFP, AP, dpa, Reuters)