Spain's ugly 1-0 triumph over the Netherlands in Johannesburg on Sunday was a match most neutral football fans will want to forget as soon as possible. But the way the Spanish claimed the title is truly memorable.
Spain scored only eight goals in seven matches, winning each of their four knock-out stage games by a score of 1-0 and setting a new record for the fewest tallies ever by a winner.
To put the numbers in perspective: All previous teams that lifted the trophy scored at least 11 goals. And in this tournament, third-placed Germany found the back of the net twice as often as the Spaniards.
Indeed, the Netherlands, Argentina, Brazil and even Uruguay were more potent offensively than coach Vicente del Bosque's men.
With so many of their games coming down to the wire, luck clearly played a role in Spain's first-ever World Cup triumph. But was it accidental? Not at all.
Squad with a flaw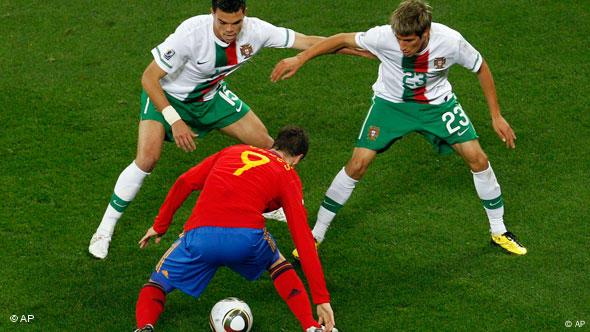 Torres was unable to make a meaningful contribution
Spain rightly rolled into South Africa as one of the pre-tournament favorites. They were the reigning European champions, having scored 12 goals in 6 matches on their way to the 2008 title and being blessed with a starting midfield drawn exclusively from powerhouses Barcelona and Real Madrid.
But the squad contained a potentially fatal flaw. Striker Fernando Torres, who was coming off knee surgery, proved to be a shadow of his normal self, rarely capable of getting behind defenses and unable to turn on the ball when he did.
That essentially left Spain without an effective center forward, a crucial element in what had been the squad's free-flowing attack.
The Spanish survived the group stage, thanks largely to striker David Villa's individual brilliance, but at that point many people were writing them off.
There was no question that the midfield, anchored by the exceptional Xavi and Iniesta, would dominate possession and frustrate opponents with their short passing. But how could Spain win if there was no one big up front to serve as a target man?
Strategic adjustment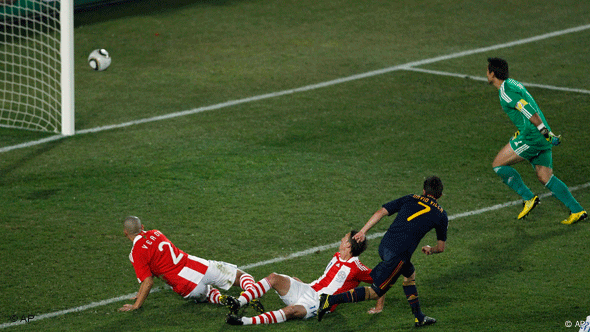 Villa came up huge
The answer lay in a clever, if unorthodox tactical change. Del Bosque went even smaller.
Villa - whose official height is listed at 1.75 meters (5'9") - replaced Torres in the middle, while the hole in the squad was filled by diminutive wingers Pedro and Jesus Navas.
The result was something that oddly resembled an Italian catenaccio. Spain weren't packing it in at the back, however, as much as they were playing keep-away just inside their opponents' half.
That made Spain less incisive going forward - Villa scored the last of his 5 goals (putting away a rebound off the goalpost) in the Spaniards' quarterfinal against Paraguay.
But the adjustment also put the focus of Spain's remaining matches even more squarely on the midfield, where Del Bosque had his biggest advantage. Germany and the Netherlands ran themselves ragged trying to win the ball back, while Spain waited and waited for gaps to open up.
Boring, a lot of football fans thought. But effective. In every one of their games, Spain not only had more possession, but more shots on target than their opponents.
The end of national styles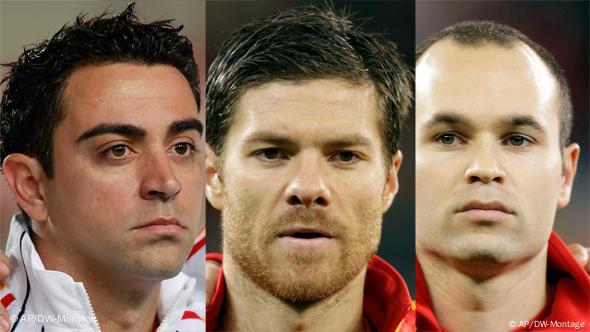 Xavi, Xabi Alonso and Iniesta anchored a superlative midfield
One thing that this World Cup made clear in that cliches about how various national teams play the game are in need of serious revision.
Historically, Spain were always a team that scored a lot and didn't get very far in the World Cup. The Spanish teams of 1986, 1994 and 2002 were twice as productive offensively than the 2010 squad - all were knocked out in the quarterfinals.
The current, more tactically disciplined team is built around an axis of players from Barcelona, a club that was for the better part of 11 years (1997-2008) coached by two Dutchmen, Louis van Gaal and Frank Rijkaard.
And it wasn't just Spain that defied stereotypes.
The most attractive offensive team in South Africa, Germany, featured seven field players from Bayern Munich, which is now of course coached by van Gaal.
Conversely, the Netherlands came very close to taking this year's title by abandoning "total football" for a rough-and-tumble style reminiscent of German teams of the past. Their coach Bert van Marwijk spent two-and-a-half years at Bundesliga club Borussia Dortmund, and the embodiment of the new "tough Dutch" style, defensive midfielder Mark van Bommel, is a Barcelona veteran and current mainstay at Bayern.
Twenty years ago, it would have been unthinkable for the Dutch and Spanish to sacrifice the beautiful aspect of the beautiful game for results - or that Germany would take spectators breaths away with technical acumen and inspiration.
But in the modern, internationalized game, anything is possible. And that's a key reason why the former perennial underachievers, Spain, hoisted their first World Cup trophy on Sunday.
Author: Jefferson Chase
Editor: Chuck Penfold