The unmanned Falcon 9 rocket took off from Cape Canaveral in Florida on Friday, carrying some 3,100 kilos (7,000 pounds) of food, supplies, and scientific experiments for the astronauts aboard the International Space Station (ISS.)
Some two and a half minutes into the flight, the missile's main booster detached, sending the Dragon cargo capsule into orbit. However, instead of simply dropping down, the Falcon 9's booster turned around and landed upright on a platform in the Atlantic.
The landmark technology has been developed by SpaceX, a California-based company managed by celebrity entrepreneur Elon Musk, who also runs Tesla motors.
The Friday landing was the first time in history that the rocket managed to land safely at sea, following four failed attempts.
"The rocket landed instead of putting a hole in the ship or tipping over," Musk told reporters at the Kennedy Space Center a short time later. "We're real excited about that."
Previously, SpaceX managed to set the rocket down on land, but ocean landings have proven to be more tricky due to rolling waves.
The Falcon 9 booster is now set to undergo a series of tests, with engineers judging its ability to fly again. If the rocket gets a green light, it could take off again in the next two or three months, according to Musk.
"In the future, hopefully we will be able to relaunch them in a few weeks," he added.
Reusing costly machines, instead of junking them, would make space travel cheaper and less harmful to the environment, said Musk.
It costs $60 million (52.6 million euro) to build a rocket, but only around $300,000 to fuel it, said the CEO.
"If you have got a rocket that can be fully and rapidly reused, it is somewhere on the order of a 100-fold cost reduction, in marginal costs," he said.
Space-age bouncy homes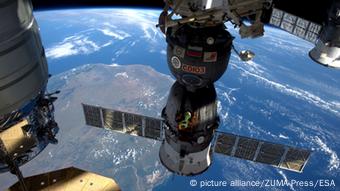 SpaceX is a NASA contractor, supplying the ISS
In addition to food and supplies, the cargo capsule propelled by Falcon 9 is carrying an inflatable room for astronauts to test and "demonstrate expandable in-space habitat technology," according to NASA.
The structure, made of layers of fabric and Kevlar-like material, will be 3.9 meters (12.8 feet) long and 3.2 meters wide. NASA hopes to use the room as habitat in Mars and Moon missions. At the same time, pod creators Bigelow Aerospace intend to create far larger inflatable structures to orbit the Earth and lease them to companies and research groups.
The cargo rocket is set to arrive to the ISS on Sunday.
dj/jm (AFP, dpa, AP, Reuters)