Salva Kiir traveled to Sudan the week after rebels attacked the South's border town of Bentiu, a key oil-producing site and the capital of Unity state. These clashes and others in neighboring Upper Nile State ended a lull in fighting during the rainy season, which renders many roads impassable for military vehicles.
South Sudan's civil war erupted in December, starting as a political dispute between Kiir and his former deputy president, Riek Machar. The dispute has degenerated into a largely ethnic conflict between the Dinka and Nuer peoples, driving an estimated 1.8 million people from their homes. Many of those refugees have fled north to makeshift camps in Sudan.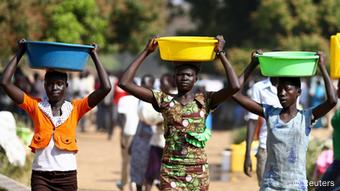 More than a million people have fled the fighting in South Sudan
Sudan's ambassador to Juba told the AFP news agency that southern oil exports through Port Sudan were high on the agenda, along with security issues and the demarcation of the two countries' disputed border.
The fighting has also seriously limited South Sudan's oil production and exports, a crucial source of income both for Kiir's government, and for Omar al Bashir in Sudan. South Sudan split from the north in a UN-brokered 2011 peace deal ending a 22-year civil war, and the landlocked country is home to most Sudanese oil reserves. However, the oil is exported via Sudan and the government in Khartoum also takes its cut as part of the uneasy separation agreement.
US official: seeking sanctions to stem violence
Representatives of the warring factions in South Sudan have been engaged in peace talks in Addis Ababa, brokered by the East African regional bloc IGAD.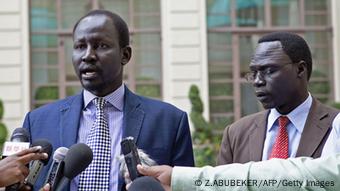 Talks between representatives of Kiir and Machar in Addis Ababa are yet to make major breakthroughs
A US official on Tuesday told Reuters, on condition of anonymity, that progress so far in these talks had been "insufficient," and that the US would circulate a draft resolution at the UN proposing sanctions in response to the conflict.
"The resolution will establish a mechanism for targeting individuals undermining South Sudan's political stability and abusing human rights," the US official said. "We believe targeted measures are appropriate at this time to support efforts to establish a peace agreement and cessation of hostilities."
He did not say when the draft would be circulated at the Security Council. The US began imposing bilateral sanctions on South Sudanese individuals in May; the official said that a UN sanctions regime would better demonstrate the world's resolve to end the fighting.
The fighting has killed more than 10,000 people in the world's newest country, and the World Food Programme (WFP) warned on Friday that continued fighting could leave millions facing famine in 2015. International aid and some small harvests had "temporarily averted" the severe food shortages initially forecast for the end of 2014, the WFP said.
msh/lw (AFP, Reuters)