President Salva Kiir had been in talks with his former, and returning vice president Riek Machar for several weeks in Khartoum, under the Sudanese government's mediation, trying to find a comprehensive peace deal to end the civil war.
Tens of thousands of people have died and millions have been displaced since Kiir and Machar fell out in 2013 and fighting between state troops and fighters loyal to Machar broke out.
A series of draft agreements around a ceasefire had been drawn up and some were signed but the comprehensive end to fighting and power-sharing accord still eluded them.
On Tuesday, Machar balked again as his SPLM-IO and another rebel group said that issues over power sharing and a new constitution had been left out of the text.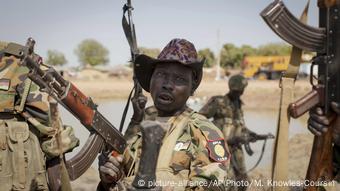 South Sudan's civil war has claimed tens of thousands of lives and displaced at least 3 million people
However, later on Tuesday, Sudanese Foreign Minister Al-Dirdiri Mohamed said intensive negotiations with Machar had led to him "agreeing to initial the final peace agreement the day after tomorrow, on Thursday, August 30."
Machar had been given assurances that a meeting of the east African Intergovernmental Authority on Development (IGAD) would take up the points he had raised.
Hopes for a lasting deal
Previous peace deals have only held for a few months before fighting began again between state forces and rebel groups.
There are hopes that this agreement may last longer and the quarter of South Sudan's population who fled their homes may be able to return.
The country's agricultural sector has been badly affected and its economy seriously undermined. Over half the population relies on aid, according to the International Committee of the Red Cross (ICRC).
The economy relies on crude oil production and when South Sudan seceded from Khartoum, most of the region's oil reserves went with it.
After Kiir and Machar signed their first August ceasefire agreement, Sudanese President Omar al-Bashir said oil would be pumped from South Sudan's Wahda region to Sudan the following month. Oil output is expected to reach 210,000 barrels per day by the end of the year.
Fighting first broke out between factions loyal to Machar and the military under President Salva Kiir in 2013, just two years after South Sudan gained independence. Clashes have continued almost unabated since.
The conflict has claimed tens of thousands of lives and displaced at least 3 million of the country's 12 million inhabitants.
jm/bw (Reuters, AFP)
Each evening at 1830 UTC, DW's editors send out a selection of the day's hard news and quality feature journalism. You can sign up to receive it directly here.