Choi Soon Sil, a longtime friend of South Korean President Park Geun Hye, was arrested "without a warrant," the Korea Herald reported on Tuesday. It added that the prosecution would request a formal arrest warrant later.
Choi arrived at the offices of state prosecutors on Monday and apologized, saying she had committed "an unpardonable crime" and "Please forgive me. I have committed a deadly sin." Her lawyer said later this was an expression of her feelings and held no legal significance.
After several hours of questioning, officials determined Choi might be a flight risk or could destroy evidence. She was therefore taken to a Seoul detention facility where she can be held without a warrant for up to 48 hours. A longer detention requires an arrest warrant issued by a court.
Officials are trying to determine whether she should be accused of corruption and exercising undue influence.
On Tuesday, Seoul police detained a man who rammed a large excavator into a gate near the office where state lawyers questioned Choi. The 45-year-old was detained and according to Officer Hang Jeung-sub, he said, "since Choi Soon-sil said she committed a sin that deserves death. I came here to help her die."
Choi, who holds no official job or security clearance, has said she received drafts of Park's speeches after her election victory but denied she had access to other official material, or that she influenced state affairs or benefited financially.
The 60-year-old has been portrayed in South Korean media as someone who wielded an unhealthy influence over Park. When she flew back to Seoul on Sunday from Germany, she was mobbed by hundreds of journalists and lost her Prada shoe in the scuffle, prompting social media users to christen her "Soonderella" on Twitter.
Confidential counsel
Park has said she relied on Choi's counsel during her election campaign and after becoming president, particularly in relation to speeches she planned to make.
Choi has been close to Park since Choi's father, religious cult leader Choi Tae-min, gained Park's trust by reportedly convincing her that he could communicate with her assassinated mother. He denied the report in 1990. Choi Tae-min continued as Park's mentor until his death 1994.
Since her election four years ago, Park has been criticized for an aloof manner and surrounding herself with a few, longtime confidantes.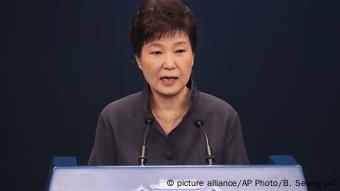 President Park Geun-hye
There have been suggestions that Choi used her connections to obtain millions of dollars from businesses for two non-profit organizations she controlled.
Scandals surrounding Park have eroded the president's popularity ahead of next year's elections. There was a protest rally attended by thousands of people on Saturday, calling for her to resign. Her single five-year term is due to end in February 2018.
Also on Saturday, prosecutors raided the homes of several presidential aides. After apologizing on Sunday for "wrongdoings," Park fired her chief of staff and seven other presidential aides in a move aimed at regaining public trust.
Corruption and malpractice have been endemic in South Korea with a number of former presidents ending their terms in disgrace.
jm/kl (Reuters, dpa)