A large fire broke out at the Sejong Hospital in the South Korean city of Miryang on Friday, killing 40 people, according to a revised toll by local officials.
More than 100 people were injured after the early morning fire started at the rear of the hospital's emergency room, which was located on the ground floor, Miryang fire chief Choi Man-woo said.
Firefighters extinguished the fire, but the cause of the blaze is still unknown.
"The death toll can still increase, since many of the injured are in critical condition," Choi said on Korean television.
No sprinkler system
Hospital director Song Byeong-cheol said the dead included at least one doctor, a nurse and a nursing aide.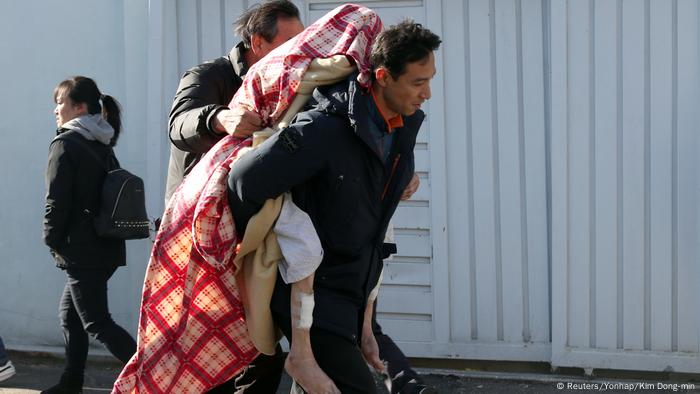 Patients were rushed out of the burning hospital and transferred to others in the area
The hospital was not fitted with a sprinkler system. A small clinic it was not mandatory under Korean law, Song said.
South Korean President Moon Jae-in convened an emergency meeting with his staff to discuss the hospital blaze, the presidential Blue House said.
Pope Francis said he was "deeply saddened" by the incident and offered his condolences to everyone affected. Catholics are a fast-growing minority in South Korea.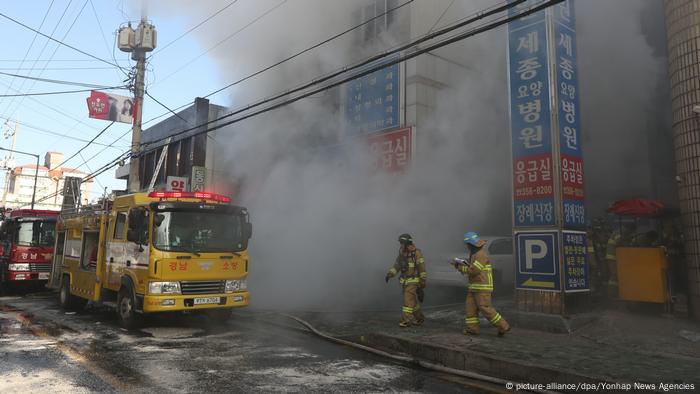 Images from the scene showed black smoke billowing from the entrance of the hospital
The news came one month after 29 people were killed in a fire at a fitness club in the South Korean city of Jecheon. That disaster was blamed on poor fire safety measures, including insufficient emergency exits and illegally parked cars that blocked emergency vehicles.
amp,rs,ipj /sms (AP, AFP, dpa, Reuters)