The hotheaded South African politician was thrown out of parliament after refusing to retract comments about the country's deputy president.
Parliamentary presiding officer Mmatlala Boroto had ordered Malema to withdraw the remarks which he made last month against Deputy President Cyril Ramaphosa, explaining that they were unproven and derogatory. Instead Malema repeated that "Cyril Ramaphosa is a murderer and participated in the conspiracy to kill the workers in Marikana."
"I will never withdraw that," he said, "you can take me to jail for that."
Long shadow of Marikana massacre
Thirty-four miners were gunned down at the Lonmin Marikana platinum mine in 2012 when police had opened fire on them during a strike. Ten other people were killed in Marikana violence, including two police officers who were hacked to death.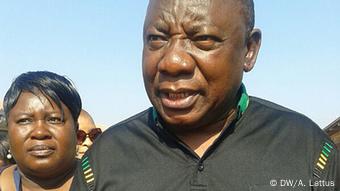 Deputy President Cyril Ramaphosa was a director at the Lonmin mines, when 2012 Marikana killings took place
The deaths led to intense public and media criticism of the police, mining companies, unions and the ruling African National Congress party (ANC).
Malema and his party have always accused Ramaphosa of having a hand in the killings, as Ramaphosa was a director at Lonmin at the time.
The events at Marikana are considered to be among South Africa's darkest hours since its departure from apartheid in 1994.
Five-day suspension
Malema, leader of the extreme-left Economic Freedom Fighters (EFF) party, was ordered to leave parliament following his remarks but ignored the instruction. Security had to be called in to remove the populist lawmaker. Malema, clad in his party's trademark red overalls, was then ejected from the chamber.
Malema has now been suspended from parliament for five days, according to the ruling African National Congress (ANC) party.
"In terms of the new rules, such kind of conduct warrants an automatic suspension of five working days," ANC parliamentary spokesman Moloto Mothapo said.
Repeat offender
The incident was not the first time that Malema had been kicked out of parliament. He was also sent out in June last year, a day after he had used his maiden speech to accuse the government of killing the Marikana workers.
In February, security forces were called in to evict Malema and his fellow lawmakers after they had disrupted President Jacob Zuma's annual state-of-the-nation address.
Enfant terrible
A former leader of the ANC's youth wing, Malema founded the EFF in 2013 and took third place with just over 6 percent of the vote in last year's general election, securing 25 of the 400 parliamentary seats in the South African parliament.
Since then, South Africa's parliament has been shaken-up by the loud and unruly behavior of EFF members, who sport red overalls and hard hats in the chamber as a signal of their camaraderie with the poor working classes.
ss/kms (AFP, Reuters)