Berlin-based Verbrecher Verlag has rented a stand measuring four square meters (13 square feet) at the Frankfurt Book Fair. It's not a lot of space, but still a luxury for the small publisher, which, along with its similarly sized colleagues, can hardly compete with German giants like Suhrkamp or Rowohlt.
Still, a greater number of small and mid-sized publishers are represented in Frankfurt this year, fair director Juergen Boos said.
Frankfurt Book Fair organizers, however, do not offer special rates to mini publishing houses. Four-square-meter spaces cost around 700 euros ($887); portable walls cost extra.
For a tiny publisher like the Cologne-based Firwitz Verlag -- which has only published three books in all -- such rates, plus costs for accommodations and food, are insurmountable.
Of the over 7,200 exhibitors presenting their books at the fair, the smaller publishers often have to work together. Forty-two of them pooled their resources, for instance, to rent a joint stand as part of the Arbeitskreis kleinerer unabhängiger Verlage (Working Group of Small, Independent Publishers), or AkV. At the stand, the publishers at least have one meter of wall space to present their books.
Idealism and a passion for books may be what motivates the small publishers, since sales are usually minimal. Firwitz Verlag did not sell more books following its exhibition at last year's book fair, it said.
What the mini-publishers are hoping for is a big hit.
"We're all hoping for a bestseller like Patrick Süskind's Perfume," Verbrecher Verlag's Jörg Sundermeier told German news agency DPA.
The small think big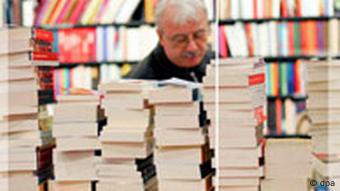 How to compete with "the big guys"?
One of the "major" small players is Munich-based A1 Verlag. In 1998, it landed a bestseller with Corinne Hofmann's autobiography "Die weisse Massai" (The White Massai), which was later adapted into a film. It allowed the house to breathe more easily, publisher Albert Völkmann told AP.

"We could stop exploiting ourselves," he said.
A1 was founded 15 years ago. Now it employs five people and publishes around 10 books a year. "Our biggest problem," said Völkmann, "is getting space for our books in stores." He said A1's books are often overshadowed by the bestsellers on bookstore shelves.
In their struggle for recognition, the smaller publishers try to help each other out.

Verbrecher Verlag apparently recommended an author to another small publisher, Berlin-based Tropen Verlag. Verbrecher publishers could not agree on payment with the author but felt he should be published, so they suggested him to Tropen.
Tropen Verlag has also had success with publishing translations of famous authors, such as American writer Jonathan Lethem.
Yet few of the tiny publishers catch that big fish. Many can only keep their heads above water through occasional grants. Often one-man-shows, they may take on freelance editing work or teaching to keep afloat.

It's their passion for books that keeps them going, many say.