Posters for "Star Wars: The Force Awakens" have manifested overnight in Germany. Ahead of the highly anticipated film's opening next week, the franchise's considerable fan base has revived a controversy about a figure who has loomed large in pop culture consciousness for decades: Princess Leia in a gold bikini with a giant chain around her neck.
The debate is two-fold. First, a furor over the highly sexualized nature of the "slave Leia" costume, as it's officially called, and second over Disney's alleged decision to pull all related merchandise from store shelves - effectively eliminating the only important female character from the original Star Wars trilogy.
Fisher: 'Don't be a slave'
The rumors that "slave Leia" would be removed from shelves, which the company has not commented on, began when an artist at Marvel, which is also owned by Disney, posted to his Facebook page that he had heard from several important company sources that "slave Leia" toys and products would be discontinued. The move was reportedly tied to the family-friendly firm wrestling with the implications inherent in selling toys depicting a human woman in a metal bikini chained by the neck to her captor, the lascivious slug monster Jabba the Hutt.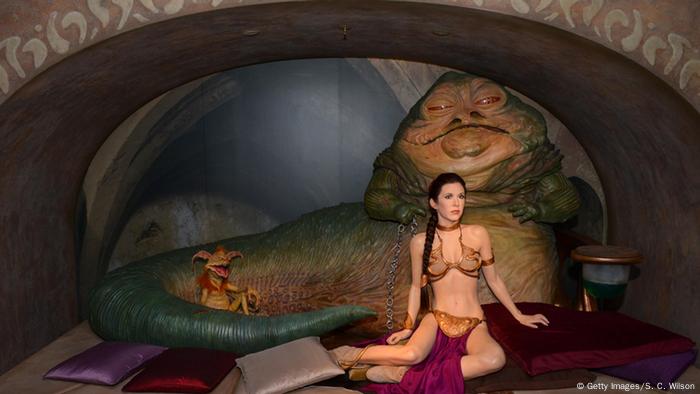 A Madame Tussauds rendering of Leia as a slave with Jabba the Hutt, as they appear in the third film of the original trilogy
Carrie Fisher, who portrayed Princess Leia in the original trilogy and reprises the role in "The Force Awakens," has spoken of her own distaste for the costume.
"Don't be a slave like I was," she advised Daisy Ridley, who plays the female lead in the new film, which has attempted to atone for the sins of the past by including more roles for women, in a recent issue of "Interview" magazine. "Fight for your outfits. Keep fighting against that slave outfit."
On the other hand, Fisher dismissed the merchandise controversy in more recent comments to the LA Times by saying "indicating [that the outfit] is some sort of accessory to S&M...That's asinine."
"I completely agree that people are reading too far into the subtext of costume," said self-proclaimed "lifelong Princess Leia fan" Alexandra Steiger in an interview with DW. "But it absolutely needs to be taken in the context of the film."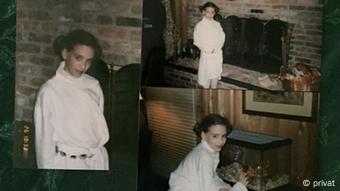 Steiger dressed up as Leia four Halloweens in a row as a child, in a costume her mother made because the outfit was not available commercially
Despite their being only one main female character Steiger said "her presence is felt more than enough." As a leader of the rebellion, in charge and brave, for most of the 386 minute running time of the original trilogy, it doesn't matter if Leia is passive and chained up for 15 minutes.
When looking at those 15 minutes of shame it's also important to remember "she turns it around, she kills Jabba, and she uses her chain as a weapon," Natalie Wreyford, an expert on the representation of women in film at the University of Southampton, told DW.
"It isn't problematic as a toy, but it's problematic because it's the only representation of Leia that's widely available," said Wreyford, not only most of the merchandise, but the media representations of her as well tend to fixate on this one outfit. "It isn't representative of her character and we know Carrie Fisher was reluctant to wear that costume."
The disappearance of Princess Leia
Yet an even bigger problem, according to Wreyford, is that if Disney did indeed discontinue "slave Leia" products, then Princess Leia would be "almost entirely eradicated" from shelves as her male counterparts multiplied.
In the spring of 2014, Wreyford was dismayed to enter the Disney store with her two young children and see that not only was it separated clearly into "boy's'toys" and "girl's toys" - with the Star Wars products only in the boys' section, but throughout the new, high-tech line Disney had just introduced, every male main character was well represented, with nary a Leia in sight.
It's not just about her Leia-loving daughter's disappointment, Wreyford said: "I want my son to see that women are important, too, but this isn't what 's happening with Disney's marketing."
"Men aren't the biggest population at the box office anymore," according to Wreyford's research, yet Disney remains "uninterested in seeing girls as consumers of Star Wars."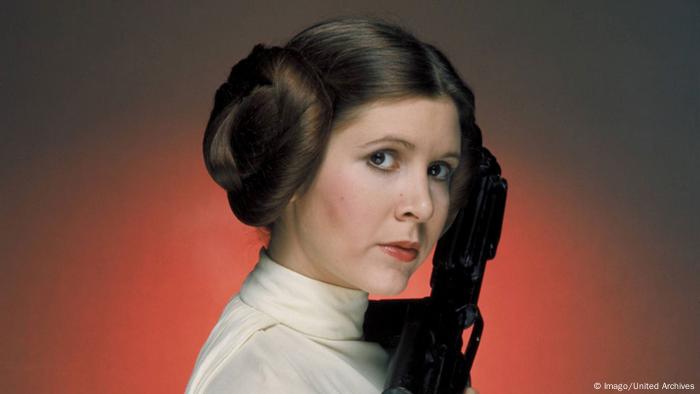 Disney had promised Wreyford toys that depict other iconic looks, like the one here, but failed to deliver
#WeWantLeia
The experience prompted Wreyford to launch the #WeWantLeia social media campaign, which quickly went viral- and elicited the cheerful response from the House of Mouse that "they would have Princess Leia by next Christmas" without specifying if they meant 2014 or 2015.
"But here we are, both of those have gone, and we don't have her."
Wreyford and Steiger both expressed their hope that with a new generation of female characters to look up to, Disney might finally make good on its promise to represent them better in its merchandise.