Germany has come under pressure from its NATO allies to transfer some of its 3,000 troops from the relatively safe north to the south to support their mostly US, British and Canadian allies in fighting Taliban-led insurgents.
But the troops' very presence in Afghanistan has caused unease in Germany six decades after the end of World War II and a parliamentary mandate limits their activities to areas such as logistics and first aid.
Three of the soldiers now being sent will work to win over local support for the deployment of NATO's International Security Assistance Force (ISAF). The others will assess conditions in the south for a possible deployment of an Afghan battalion currently in the relatively safe north of the country and decide what equipment they will need.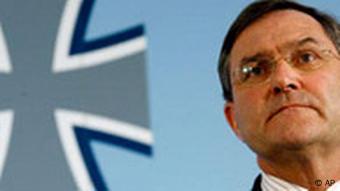 Jung refused a request to send 19 Bundeswehr soldiers to southern Afghanistan
Deputy Defense Minister Peter Wichert wrote in a message to the chairs of the German parliament's defense committee that the deployment would be for a limited time of three to four weeks and the result of a request from the Afghan government that could not be denied, the Welt am Sonntag newspaper reported Sunday.
"The deployment of German soldiers completely conforms to the Afghanistan mandate," a defense ministry spokesman said.
Christian Democratic Union defense expert Eckhart von Klaeden said it was right for Germany to support the Afghan government when requested. He told the online version of Der Speigel news magazine that the Bundeswehr needed to "be ready to accompany the Afghan units that received German training in their deployment."
On Friday German Defense Minister Franz Josef Jung declined a request from the Afghan government to send 19 German army instructors to accompany an Afghan battalion being deployed near Kandahar in the volatile south.
ISAF has around 37,000 troops from 37 countries, around a third of whom are in the south.