City Harvest Church (CHC) head pastor Kong Hee, 51, was sentenced Friday to eight years in prison. The remaining five were handed prison terms varying from 21 months to six years.
"The criminal breach-of-trust offences which the accused persons committed involve the largest amount of charity funds ever misappropriated in Singapore's legal history," state prosecutors said before sentencing.
The half-dozen senior officials from the Christian megachurch [a US term for a local church with more than 2,000 worshippers attending each week - the ed.] had been convicted last month of diverting more than $35 million (32.75 euros) to advance the career of Kong's wife, Ho Yeow Sun, also a senior figure in the church, who escaped prosecution.
The pastor and his 43-year-old wife were once a high-profile couple who led the expansion of their congregation, which had more than 30,000 members at its peak several years ago. CHC's 2014 annual report said the church membership was 17,522 last year.
Music videos hurt church reputation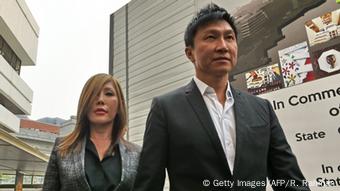 Kong Hee said supporting his wife Ho Yeow Sun's pop career was key to promoting the church
But the couple faced a religious backlash following the release of a music video featuring a scantily clad Ho with Haitian rapper Wyclef Jean.
During the trial, Kong defended diverting church funds to promote his wife's pop music career as a key part of the City Harvest Church's Crossover Project, which was designed to promote the church.
An internal whistleblower also helped expose financial irregularities in the church, which state prosecutors characterized as the biggest charity scandal in Singapore's history.
A letter appealing for leniency, signed by 173 senior members of the church, was submitted to the court, and church members sobbed in the public gallery as the sentences were read out.
jar/msh (Reuters, AFP, dpa)