German industrial giant Siemens revealed on Wednesday that it will list its thriving healthcare division in Frankfurt, meaning it will be the largest initial public offering (IPO) of any kind in Germany in more than 20 years.
Siemens Healthineers, a medical solutions company that specializes in medical imaging and other healthcare technologies and services, is valued at around €40 billion ($47 billion) and had been, until recently, tipped for a New York listing.
However, the Siemens supervisory board has opted for Frankfurt, meaning the IPO — which will most likely take place in the first half of 2018 — will be the largest in Germany since Deutsche Telekom went for an €11 billion listing in 1996.
Siemens is expected to make about 25 percent of its shares available as a minority stake for around €10 billion, based on current market valuations.
An initial public offering, also known as a stock market launch, is the first time a private company's stock becomes available for public purchase. The amounts of shares made available differ from deal to deal and it is through the process that private companies become, in effect, public.
The news is a particular boon for the share trader Deutsche Börse on the Frankfurt Stock Exchange, an outlet which has been regularly beaten to big listings in recent years by New York, London, Hong Kong and other major financial centers.
In rude good health
Healthineers is currently the most profitable of Siemens' nine divisions and in the last quarter, was the conglomerate's largest in terms of revenue, with profits of €3.7 billion. Its profitability has been increasing incrementally over the past few years.
Whilst specializing primarily in the sale of medical machines, the company has developed substantially, adding consulting and healthcare IT services to its portfolio. Its biggest market is in the US, while it is also highly successful in China and Japan.
Read more: Siemens profit rises despite drop in orders
The decision to list in Frankfurt, rather than New York or London, has been ascribed to a few different considerations.
Michael Sen, a Siemens board member with responsibility for the health division, said: "Frankfurt is one of the world's largest trading centers for securities, and its importance will continue to increase due to Brexit. As a highly liquid trading venue, Frankfurt is attractive for investors from around the world."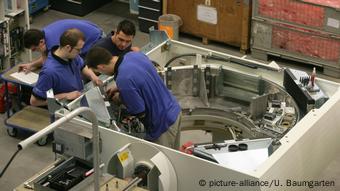 The Brexit issue is thought to have ruled out London before it came under any serious consideration, while Siemens financial chief Ralf Thomas said last month that New York no longer held natural economic advantages over Frankfurt.
Viva Europa
The decision to list in Germany may also be motivated by a desire to shore up support among German labor unions, following the news earlier this month that Siemens would cut thousands of jobs in Germany in its power and gas units.
The Munich-based conglomerate, which is Europe's largest industrial manufacturer, has a somewhat sprawling, labyrinthine structure but CEO Joe Kaeser has been attempting to center its operations around core industrial divisions as part of a company development strategy.
The Frankfurt listing also continues a trend that has seen Siemens consolidate many of its operations within Europe.
Its renewable energy unit is already merged with Spanish wind turbine maker Gamesa while back in September, Siemens announced plans for a massive rail merger with French company Alstom, creating, in its own words, "a European champion".
Earlier this week, Siemens announced plans to collaborate with fellow European companies Airbus and Rolls-Royce to build a hybrid-electric test plane, which they hope will be commercially viable by the 2030s.
aos/nz (Reuters, dpa)