A Greek prosecutor on Tuesday, July 1 filed charges of bribery and money laundering in a corruption probe into deals between the Greek state and German engineering company Siemens.
The charges follow a two-year investigation into contracts won by Siemens to equip Greece's main telecoms operator OTE over a decade ago and later to help create an expensive security system for the 2004 Athens Olympics.
The charges have not been brought against any individual. Under Greek law, charges can be filed against "all responsible." That allows authorities to open a wide-ranging investigation and anyone considered a suspect in it is automatically charged.
Scandal rocks Greek politics
The probe in Greece began after revelations in 2005 that Siemens had earmarked a significant amount of funds for bribes to secure foreign contracts.
So far about 100 people, including former executives in Siemens AG's Greek unit and OTE, have testified to Athens prosecutor Panayiotis Athanassiou during the two-year investigation. Several businessmen and stockbrokers suspected of acting as middle men for the payouts have also gone on the stand.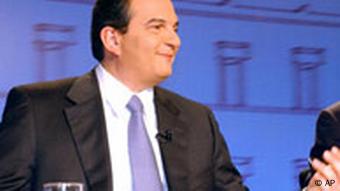 Greek Prime Minister Karamanlis has promised a parliamentary investigation
The affair has rocked the two main political parties in Greece, the ruling New Democracy conservatives and the opposition Pasok socialists. The Greek media has for weeks speculated that officials on both sides received perks, gifts and payments from Siemens slush funds. However, both parties have denied receiving cash.
The socialists were in power until 2004 and oversaw the bulk of preparations for the Athens Olympics. But the ruling New Democracy conservatives could also be implicated in the scandal as the Siemens payments continued after they came to power, Greek press reports claim.
On Tuesday, respected Greek daily Kathimerini claimed Siemens company officials earmarked more than €12 million (US$19 million) for Greece's main political parties between 1998 and 2005.
Socialist spokesman Giorgos Papaconstantinou on Tuesday called for a special Parliamentary investigation, and accused the government of trying to cover up a scandal. Greek Prime Minister Costas Karamanlis last week vowed to open a parliamentary inquiry into the case as soon as the judicial investigation is complete.
Norway slaps fine
Separately, police in Norway said Tuesday they were imposing a fine on the local unit of German engineering giant Siemens of two million kroner ($400,000) for corruption in defense contracts.
It was the second Siemens unit to be fined in Norway. The company is contesting both fines.
Siemens, one of the world's best known companies, is being investigated in several countries over allegations of bribery and corruption.
In Germany, Siemens is fighting a damaging corruption scandal since 2006. It centers on the existence of a slush fund that was used to win industrial contracts.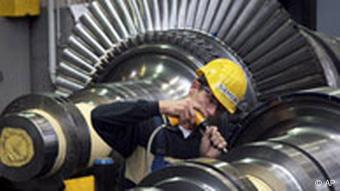 Siemens is a household name across the world
The group, which employs 400,000 people around the world and makes a broad range of products including household appliances, medical equipment, trains, turbines and power stations, acknowledged following an internal probe that 1.3 billion euros ($2 billion) disappeared into various funds. It said it had found evidence of violations across the company and in several countries.
German investigators have since determined that payments to obtain foreign contracts were a widespread practice among Siemens multiple divisions.
Siemens has said it is cooperating in all the investigations, and has introduced changes designed to make its corporate structure leaner and more transparent.