Germans have a legal duty to contribute to the cost of their parents' care once the individual's own funds are exhausted.
The Federal Court of Justice in Karlsruhe upheld this law on Wednesday and ordered a man to pay 40,000 euros ($52,000) to his local authority for his deceased mother's care home fees. The woman, who had been living in a care home in Gelsenkirchen for five years, had had no contact with her son for over 30 years. Her mental health problems had meant he had lived with his father from the age of 12. Against this background, the son was unwilling to accept that he should pay for his mother's care.
"I didn't have any quality of childhood," he told broadcaster ARD before the ruling. "I can't pay, and I'm not prepared to do so. Especially because there was such a long period of time when I didn't have any contact at all. I didn't even know the woman was still alive."
Who should foot the bill?
There are already limits on the amount that children can be asked to contribute to their parents' care. In principle no one should have to cut back on their current standard of living to pay for the cost of a care home.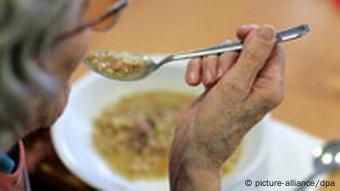 Many elderly people worry about how to pay for the care they need.
But Andrea Weskamm of the German Nurses Association thinks children shouldn't have to bear any financial responsibility for their parents whatsoever.
"What happens with people who don't have any children?" Weskamm said in an interview with Deutsche Welle. "The state jumps in. It's also unfair for those people who have parents with serious needs. I think it's up to the whole of society to deal with this problem."
But should the state really be expected to foot the bill for the already enormous – and growing - cost of caring for the elderly? According to Weskamm, many people are concerned about putting a financial burden on their families as they grow older:
"Parents worry about what will become of them, there's a lot of uncertainty," Weskamm said. "They ask themselves whether they'll have to go into a home if it gets to the point that they need outside help. And they worry about who'll pay for it."
Even if insurance companies cover some of the cost of going into a care home, they are unlikely to pay for everything. With well over 600,000 people in 11,000 care homes in Germany today, many families will be unsettled by the Karlsruhe court ruling.
Author: Joanna Impey
Editor: Susan Houlton