Signals thought to be from one of the plane's flight recorder were picked up by a specially equipped French navy ship, investigators in Cairo said Wednesday.
The vessel, which is one of several ships scouring the Mediterranean for flight MS084's remains and black boxes, uses devices to listen for the pings emanating from the black boxes, said Egypt's Ministry of Civil Aviation.
It said another ship was on its way to the area, carrying robots that can dive to the seabed to recover the black box. The ministry added that the second ship would arrive at the site within a week.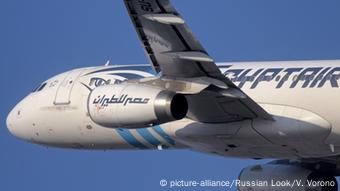 The flight from Paris to Cairo had 66 people on board
Search narrowed
Confirmation of the signals being heard was later made by French investigators.
"The signal from a beacon from a flight recorder has been detected" by navy vessel Laplace, said Remi Jouty of France's Bureau of Investigations and Analysis (BEA). He added that the priority search area has been established.
EgyptAir flight MS084, en route from Paris to Cairo, went off the radar minutes after entering Egyptian airspace on May 19, crashing into the sea and killing all 66 people on board.
The crash site is believed to be where the Mediterranean Sea can reach depths of 3,000 meters (9,842 feet), some of the sea's deepest waters.
Black boxes 'are key'
Although personal belongings, small parts of the wreckage and some human remains have been pulled from the water, this is the first sign that investigators will be able to retrieve either of the two black boxes and the plane's main fuselage from the bottom of the sea.
The black boxes, which record flight data and the voices of pilots in the cockpit, have enough battery power to emit signals for four or five weeks and could help investigators determine the reason for the crash.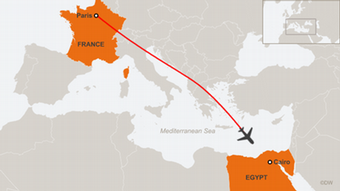 EgyptAir flight MS084 was only 30 minutes away from landing when it suddenly disappeared from radar
The German news agency dpa cited sources at the Egyptian investigative committee who said they would release an initial report into what caused the crash before the end of the month "even if the black boxes are not located by that time."
Bomb not confirmed
Investigators have not ruled out a terrorist attack but say it's too early to say what caused the disaster.
The crash came almost six months after a Russian passenger jet broke up in mid-air shortly after take-off from Egypt's resort of Sharm el-Sheikh, killing all 224 people on board. Moscow claims that incident was caused by a bomb.
Late on Tuesday, passengers from were evacuated from EgyptAir Flight 960 from Cairo to Bangkok after a bomb scare.
mm/sms (AFP, AP, dpa, Reuters)