On April 16, the Sewol passenger ferry, carrying 476 people, was sailing from Incheon to Jeju Island when capsized and sank. The incident was South Korea's worst civilian maritime disaster in 20 years. Only 172 people survived, with many others trapped inside as the ship went down. Of those on board, 325 were pupils from Danwon High School on an organized trip. The death of some 250 classmates - and around a dozen teachers – did not only shock the nation, but has also left an emotional scar in the school in Ansan city, located just south of the capital Seoul.
Fifteen surviving crew members are currently facing trial, including the captain and three others who face homicide charges. They are accused of having done nothing to rescue the passengers, and could face the death penalty if found guilty. Kwon Oh-hyun, who lost his younger brother when the boat sank, is now a spokesperson for the families of the victims. In a DW interview, the 27-year-old says it will be difficult to point to a single individual to blame for the disaster, but he believes the fundamental fault lies with the government system. He also feels the victims' families are being left out of the judicial process.
DW: How is the Ansan community recovering, now two and a half months since the tragedy?
Kwon Oh-hyun: There are about 50 people from the group of victims' families that now work in this association. A lot of the parents of the students ended up quitting their jobs after the accident. Some tried to go back to work, but couldn't handle it and now just stay home.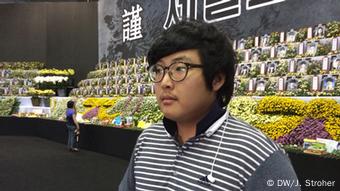 Kwon: "The government is trying to put the entire blame on the coast guard. For those families who still haven't found the bodies of their children, it makes them very upset"
How are the victims' families being supported?
The government is giving us some living support and psychological counseling. But these types of help are limited. We only get two months of the stipend. And the trauma counseling is only for one year. Does that mean we're supposed to feel better in a year from now?
What can you tell me about your brother?
His name is Kwon Oh-chun, he was 16 years old. For about 15 years we shared the same room, even the same bed. Right after he passed away, it was very difficult for me to sleep in that room, for about a week or so, I ended up sleeping in my car. I couldn't bear to go back into that room.
He was an easy-going kind of guy. He was really into sports such as taekwondo and boxing. Our parents didn't really want him to focus only on sports in school. But our father passed away about a year ago and I basically took over in guiding him. I convinced our mom to let him make preparations to study physical education in college. One week after that was when the accident happened.
What is your opinion about the trials taking place now. Do you think they will be transparent and fair?
Right now, the evidence is just being submitted; there are over 2000 pieces of evidence. Even though the Sewol's captain and crew are facing murder charges, there still doesn't seem to be enough evidence to show the crew intended to kill the passengers.
I think the prosecutors are doing a good job. More evidence is coming in, like the camera onboard the ship and the cellphones of some of the passengers. Once this is all collected, we'll see if these charges can be proved.
But some of us family members, we feel a bit left out of the whole process. It seems the court is going too far to protect the defendants. And some of those accused have been falling asleep inside the court. I think some of us would really like to just beat them up.
Who do you feel holds the most responsibility for what happened?
It's difficult to point to a single individual or entity to blame for this disaster. I feel that the fundamental fault lies with the government system. The coast guard wasn't properly trained to handle this emergency. The Chonghaejin Marine Company also didn't prepare their crew to respond properly to this kind of situation. It was an overall lack of safety standards in this country.
What do you think about President Park Geun-hye's decision to disband the coast guard and create a new emergency response department?
I think the government is trying to put the entire blame on the coast guard. For those families who still haven't found the bodies of their children, it makes them very upset. They are worried that it will demoralize the coast guard divers who are still trying to recover those bodies.
Later this month some of the survivors of the Sewol sinking will testify in the case against the crew members. What is your view on this?
Since many of the survivors are still not in good shape emotionally, they are being allowed to record their testimony here in Ansan. Their statements will then be sent to the judge in Gwangju where the trials are taking place. I am not sure what they will say and it's hard to say how this evidence will affect the case.
The media have been limited by the court on reporting about the trials. Do you feel the families are receiving enough information about how the proceedings are going?
We have been given 105 tickets to attend the trials. We all take turns going there. Some of us take notes at the court and when we come back we tell the people who couldn't attend how things are going there.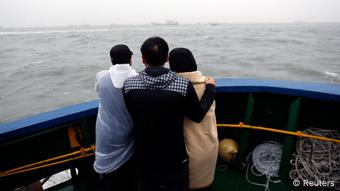 Kwon says he sees some positive changes across the country and that people are taking their personal safety more into consideration
One of the next steps in this case will be to bring the sunken ferry up to the surface. When do you think that should happen?
I cannot say when it will be appropriate to raise the ship. It can only happen when all the victims' families agree to it. But there are still some missing students and they would have to sign off on that in order for it to happen. But, with that said, there is a law that requires the ship be lifted after one year. But who knows what will happen between now and then.
Since the Sewol tragedy, have you seen any positive changes in society?
I do see some positive change across the country that people are taking their personal safety more into consideration. But I am still worried that the government won't educate citizens on how to protect themselves better. Better safety standards should have already been implemented. This accident didn't have to happen.