"This is an historic moment," said German Chancellor Angela Merkel, after Serbian authorities announced late Monday they had arrested the top war crimes fugitive.
"The victims can rest assured that massive breaches of human rights do not go unpunished," said Merkel. "The arrest of Karadzic is good news for the Balkans. It represents an important step towards justice, peace and reconciliation in the region. President Boris Tadic has underscored Serbia's European aspirations."
Over a decade in hiding
Belgrade judge Milan Dilparic's ruling came after he questioned 63-year-old Karadzic on Monday night, the Tanjug state news agency reported. Karadzic's lawyer, Svetozar Vujacic, said he would appeal, Tanjug said. He has three days to file an appeal.
The independent Beta news agency reported that Karadzic was arrested in Serbia, ending 12 years in hiding.
The UN war crimes tribunal for the former Yugoslavia indicted Karadzic in 1995 on charges of genocide, crimes against humanity and breach of the Geneva Convention for his alleged role in leading the brutal ethnic cleansing of non-Serbs during Bosnia's 1992-95 ethnic war.
He is accused of ordering the 1995 massacre at Srebrenica, where Bosnian Serbs killed thousands of Bosnian Muslim men and boys.
"The National Security Council said tonight that with the action of Serbian security forces, Hague indictee Radovan Karadzic was located and arrested," the statement from Tadic's office said. "Karadzic was brought before a judge of the war crimes court in Belgrade."
Karadzic has so far refused to respond to genocide charges after his arrest and has called the case against him a "farce," his lawyer said Tuesday.
Serbian authorities said that Karadzic took a false name and changed his looks, allowing him to live unrecognized in the Serbian capital until his arrest. They also released a photo showing Karadzic with long white hair and a beard. He lived under a false name in Belgrade, Serbian
war crimes prosecutor Vladimir Vukcevic said.
"His false identity was so convincing," Vukcevic told reporters in Belgrade. "He moved freely around town, appeared in public places and worked for a private ambulance company. People didn't recognize him."
Celebrations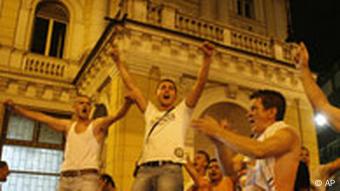 People in Sarajevo celebrated when they heard the news
In Sarajevo, the Bosnian capital where the civil war broke out after its Muslim-led government declared independence from then-Yugoslavia, dozens of residents gathered downtown to welcome Karadzic's capture.
Word of his arrest came just weeks after the swearing in of Serbia's new pro-European government, which has set ambitious goals for the long-isolated nation to join the European Union -- a target that requires full cooperation with the UN tribunal in The Hague.
Bringing Karadzic to justice has been a key condition for EU membership. Serbia would also need to arrest former Bosnian Serb military leader Ratko Mladic, indicted for war crimes including the Srebrenica massacre, and another top suspect, Goran Hadzic. Mladic is believed to be hiding in Serbia.
Serb authorities arrested another Hague fugitive, Bosnian Serb Stojan Zupljanin, on June 11 in Pancevo outside Belgrade.
Boosting Serbia's EU aspirations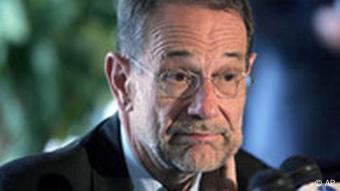 Solana expressed "enormous" satisfaction
In Brussels, European Commission President Manuel Barroso said Tuesday that the arrest of Karadzic is "very important for Serbia's European aspirations."
European Union foreign policy chief Javier Solana meanwhile voiced "enormous" satisfaction with Karadzic's arrest. The new government in Belgrade represents a "new Serbia" and a new level of relations with the EU, he said, according to spokeswoman Cristina Gallach.
The Serbian government is meeting its responsibility to show European values, Solana said. Karadzic will face a court and receive a fair hearing, he emphasized.
Solana also said that he expected Monday he expected the chief UN war crimes prosecutor, Serge Brammertz, to declare Serbia in cooperation with the court after Karadzic's arrest.
"I am almost certain ... he is going to say there is full cooperation," Solana told reporters at a meeting in Brussels, referring to a move which in turn would unblock Serbia's path towards membership of the 27-nation bloc.
Brammertz was due Tuesday in Belgrade for talks with Serb officials, but Beta quoted his spokeswoman overnight as saying that the visit has been postponed.
After years of pressure from Washington for Serbia to arrest Karadzic and turn him over to the tribunal in The Hague, the United States praised Belgrade Monday night.
"This operation is an important demonstration of the Serbian government's determination to honor its commitment to cooperate with the International Criminal Tribunal for the former Yugoslavia," White House spokeswoman Dana Perino said. "There is no better tribute to the victims of the war's atrocities than bringing their perpetrators to justice."
Karadzic, a medical doctor and psychiatrist, grew up in Tito's communist Yugoslavia and rose to prominence during the Balkan federation's violent breakup. He was backed by the late Serb strongman Slobodan Milosevic, whose goal was to unite all Serbs in one nation.
Ethnic cleansing mastermind
In July 1990, Karadzic formed the Serb Democratic Party (SDS) in Bosnia after parliamentary democracy ended four decades of communist rule. He virulently opposed Bosnia's divorce from Yugoslavia.
During a parliamentary debate in autumn 1991, he warned Bosnia's Slavic Muslims that they would be wiped off the face of the earth if Bosnia-Herzegovina seceded from Yugoslavia.
Less than a year later, Karadzic moved to implement the threat, at least in those parts of Bosnia that he deemed as Serb. In clashes during the run-up to the Bosnian war in early 1992, Milosevic supplied Bosnian Serbs with weapons, logistics and personnel from the Yugoslav People's Army (JNA).
Bosnian Serb troops directed by Karadzic and Mladic launched what came to be called ethnic cleansing, terrorizing and killing Bosnian Muslims and Croats and besieging Sarajevo. Karadzic set up headquarters in Pale, a ski resort outside Sarajevo, and attended international peace talks while the fighting raged.
With shifting alliances between the three sides, the civil war lasted three-and-a-half years, leaving tens of thousands dead before US-led mediation ended the fighting in the Dayton peace agreement.
The peace deal set up a Serb republic and a Muslim-Croat federation on Bosnian soil. Karadzic gave up his post of Bosnian Serb leader and went into hiding and was last seen in public in July 1996.
"A great day for Bosnia"
Aleksandar Vucic, general secretary of the anti-Western, ultra-nationalist opposition Serbian Radical Party (SRS), early Tuesday lamented the loss of "people who are symbols of patriotism." He accused the government of doing the bidding of the European Union.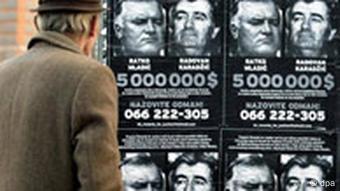 Mladic, the other major war crimes suspect, has still not been caught
The Chairman of Bosnia's Presidency Haris Silajdzic said Tuesday in Sarajevo that the arrest "is at least some satisfaction for the families of the victims of the war. The justice, however, cannot be complete without the arrest of Ratko Mladic."
The Croat member of Bosnia's presidency, Zeljko Komsic, called it a "great day for Bosnia-Herzegovina."
Miroslav Lajcak, international administrator and EU special representative in Bosnia-Herzegovina, said that the arrest "is the beginning of the end of Bosnia's most tragic chapter in history."