Public broadcaster RTS, citing official sources, said turnout for the poll was 54 percent. The first results are due early Monday in the West African nation.
The elections are to select 165 lawmakers for parliament, a body which has less power than the president under the constitution.
Over 6.2 million people were registered to vote in the election and there were a record 47 lists of candidates in the running, meaning 47 types of ballot paper needed to be available at polling stations.
There were long delays to voting on Sunday in several places and some voters complained of being left off the electoral rolls in the West African country, which has a peaceful democratic tradition. Polling stations were due to close at 6 p.m. (1800 UTC), but in the central city of Touba the governor allowed people to vote until midnight after particularly long delays worsened by heavy overnight storms.
The poll represents the first test for President Macky Sall since he came into office in 2012. He is seeking to strengthen his parliamentary majority as he looks toward a second term.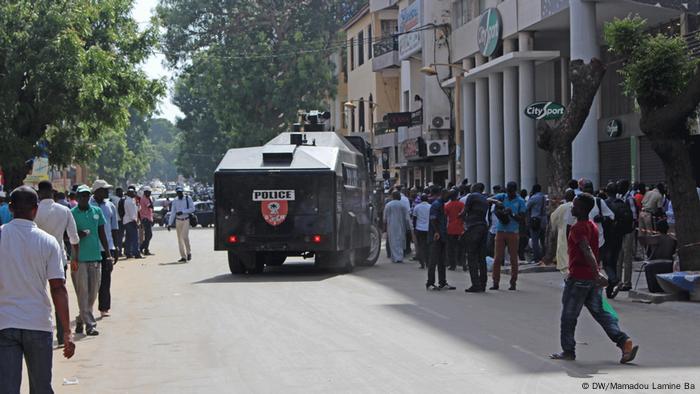 There were demonstrations during the campaign
A three-horse race
One of his two main opponents is 91-year old Abdoulaye Wade, who was president from 2000-2012. He returned recently for the election campaign after two years in France.
Many believe Wade will run for the presidency in 2019 so that he can grant amnesty to his son, who was exiled to Qatar after being convicted of embezzling $200 million (170 million euros).
On Sunday Wade accused his successor, Sall, of manipulating the ballot to halt an opposition victory. A police statement said a total of 147 polling stations had been trashed and three people, all candidates on Wade's list, had been detained.
Sall's other main opponent, Dakar Mayor Khalifa Sall - no relation - is in jail awaiting trial for what his supporters say are politically motivated charges. Dakar's popular mayor awaits trial for the alleged misappropriation of $2.85 million in funds from the city.
Fifteen of the 165 seats in parliament are being set aside for Senegalese expatriates - the first time that the country's diaspora, estimated at half a million, will have direct representation.
jbh/jm (AFP)