At sunset, Kanchan Mondal would set off every evening to find odd jobs, leaving her children at home. Like many women in her village in Sundarbans of Bengal, her husband left to find work in the city, forced away by the ever-encroaching seawater that has left their farmlands barren.
"Now, I am also their father," 35-year-old Mondal said, as she hurriedly ladled out potato broth for her 6-year-old daughter and 12-year-old son. "If I don't leave for work, I don't earn enough to feed them. When I come back I have to cook dinner, and sometimes it gets late."
Cocooned by the tidal rivers and the mangrove forests of the southeast Sundarbans, Mondal's village of Saatjelia, alongside two other villages Kumirmari and Jhorkhali, have been plagued by coastal erosion, repeated cyclones and floods - thanks to climate change. As much as 200 meters of coastline is disappearing annually, according to a 2013 Zoological Society of London study.
This has spelled disaster for rice farming - the main occupation in the region. Some paddy fields are submerged under 2 feet of brackish water throughout the year, and increasing salinity is poisoning the soil - meaning nothing can grow there.
And as men migrate further west to the city of Kolkata in search of work, their wives and children are left behind to fend for themselves in this dangerous terrain.
To make ends meet, many women have taken up the dangerous job of crab fishing, which entails setting off into the estuaries on boats, sometimes for days on end where they are at the mercy of the region's unpredictable tides - and tigers.
But now, Mondal and the other women of Saatjelia, Jhorkhali and Kumirmari are being trained in a sustainable, safe and empowering alternative to taking to the treacherous waters.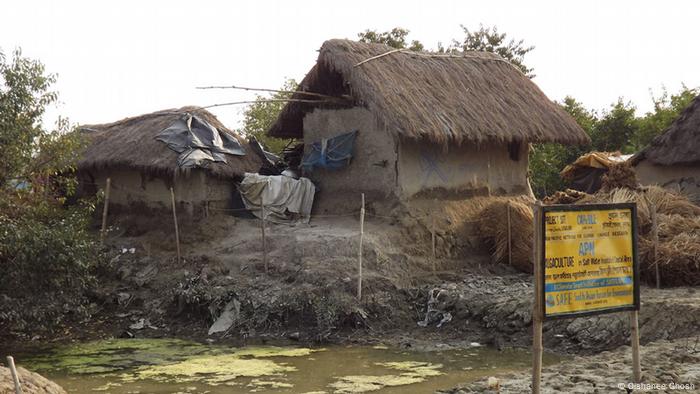 Small embankments trap the seawater, where the algae is then cultivated
Seaweed solutions
The Asia Pacific Network-Global Change Research and the South Asian Forum for Environment, a civil society organization working throughout the Indian subcontinent, are promoting algaculture in fields covered by seawater.
The project, which launched in 2012 with around 100 beneficiaries, involves farming commercially viable algae like Ulva intestinalis and Ulva lactuca.
"The ability of women to be major algae producers and collectors cannot be ignored," Dipayan Dey, a project leader, told DW. "We conducted series of capacity building workshops at all three project sites. Women in groups were taught about harvesting, identification of the algal species, pond preparation and cultivation management."
Algae cultivation requires little technical know-how and almost no startup costs, so it is relatively easy to implement. And the product is in demand in India as a raw material for products such as soaps and shampoo.
Such algae can fetch around 35 rupees (0.50 euro) per kilogram on the domestic market and 70 rupees (1 euro) internationally if marketed properly, added Dey.
That's compared to around 1,300 rupees (18 euros) per 100 kilograms of rice - but prices vary with production and rainfall. Paddy prices depend on the monsoon.
The green seaweed is also a promising source of biofuel, according to a 2010 United Nations Food and Agriculture report. And many farmers are using it as an organic fertilizer for crops.
"Usually, I prepare my soil with urea and potash - but I used the algae fertilizer this time," said Diganta, a farmer from Jhorkhali who recently switched over. "I was initially worried - but the plants are healthy."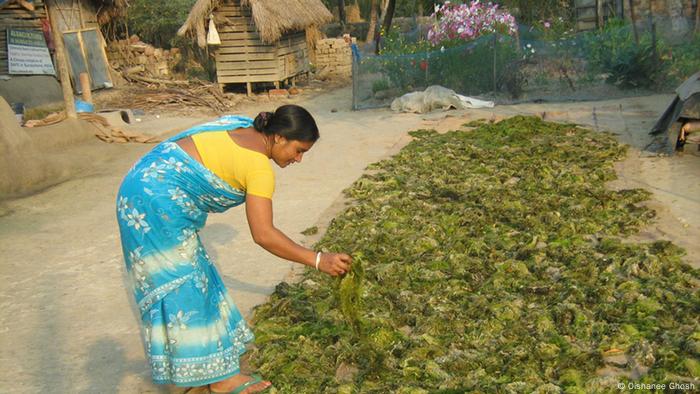 The project helps the women of the Sundarbans to secure their livelihoods
Empowerment and improvement
Climate adaptation measures such as the algaculture project have improved transport, education and communications in this part of Sundarban, say local officials. And the lives of women have been transformed.
For instance, Mondal's son was able to return to school, having dropped out to help out with the chores and look after his sister after his father left. Mondal's daughter has started primary education. The mother has also built a solid kitchen, to replace the one made of mud and thatch that would collapse every monsoon.
"A couple of years back I would wake up and be worried about what to cook for my children at night. My husband would bring me some money every four months - but that was barely enough," relates Mondal.
After starting in algaculture in 2013, Mondal says she is now able to save money for a rainy day. She now also no longer has to do odd jobs and leave her children at home alone.
Green seed
It's been an empowering experience for many women. Mondal holds meetings every other evening at her house. Issues discussed range from cooperative banking, to building an unpaved road through the village post-monsoon.
The women in Satjelia have started manufacturing non-timber forest products like honey and neem oil - a vegetable oil pressed from the fruit and seeds of the neem tree. This in turn helps to preserve forest.
Many men who left their ancestral homes are now coming back to join algaculture movement and their families. That includes Kanchan Mondal's husband.
"I always thought algae were some kind of nuisance growing on pond," says Bhabasindhu Mondal, back from Kolkata. "I had to see with my own eyes to believe that it can be grown like a crop."
"I was used to our green paddy fields - and now I come back to a different kind of greenery."
This story was sourced through the Voices2Paris UNDP storytelling contest on climate change.