French President Francois Hollande on Friday said the "terrorist nature" of an attack in Nice is undeniable after a driver rammed a truck into a crowd of revelers on Bastille Day, killing dozens of people, including children.
"All of France is under the threat of Islamist terrorism. We must show constant constant vigilance," Hollande said in a statement.
French Interior Minister Bernard Cazeneuve said 80 people were killed and dozens injured in the attack.
Regional President Christian Estrosi told BMFTV that the truck was filled firearms and grenades. "There were guns in this vehicle and larger weapons, but I can't say more than that because that is the prosecutor's job," Estrosi said.
Sebastien Humbert, the sub-prefect of the Alpes-Maritimes region, told the French television channel that the "truck rammed into the crowd over a long distance, which explains this extremely heavy toll."
"This is the worst tragedy in the history of Nice, with more than 70 victims already reported," the regional president said earlier in the evening.
Hollande confirmed that security forces killed the driver. Witnesses also described hearing gunfire. However, authorities have yet to confirm reports of weapons being used in the attack.
State of emergency extended
Hollande said France will ensure the continuation of the Sentinel operation, which puts 10,000 soldiers on patrol across the nation, adding that he was calling up reservists to help police, particularly at the country's borders.
"I have decided that the state of emergency, which was set to end on July 26, will be extended for three months," he said, hours after saying he wouldn't prolong it.
Hollande activated the security measure the evening of November 13, when "Islamic State"-affiliated militants launched several attacks across the capital Paris, leaving 130 people dead.
The French president said he will call a defense council meeting on Friday, bringing together his defense, interior and other key ministers to assess developments.
French authorities have created a crisis hotline, which can be reached at +33 (0)1 43 17 56 46.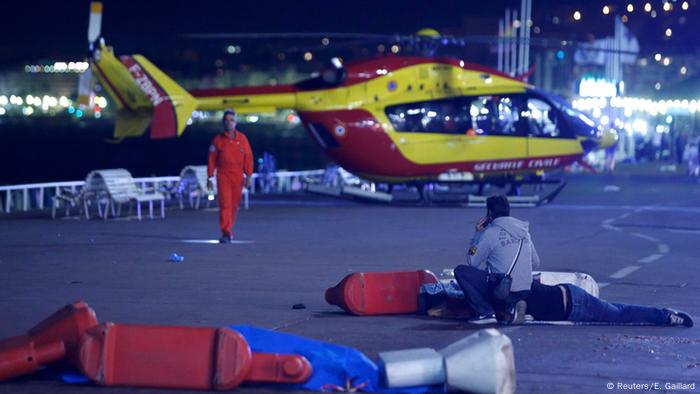 French soldiers and police secured the area after at least 30 people were killed in Nice when a truck ran into a crowd celebrating the Bastille Day national holiday
'In solidarity'
The UN Security Council strongly condemned the "barbaric and cowardly terrorist attack" that occurred during Bastille Day celebrations.
"Any acts of terrorism are criminal and unjustifiable," said a French-drafted statement adopted unanimously by the council.
US President Barack Obama condemned "what appears to be a horrific terrorist attack." He ordered his team to provide assistance to French authorities.
"I have directed my team to be in touch with French officials, and we have offered any assistance that they may need to investigate this attack and bring those responsible to justice," he said.
"We stand in solidarity and partnership with France, our oldest ally, as they respond to and recover from this attack."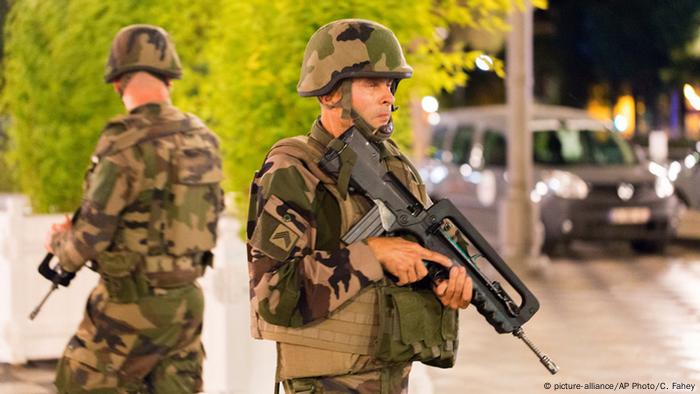 Officials said the truck was filled with firearms and grenades after inspecting the vehicle
ls/bw (AP, AFP, Reuters)