Speaking before the Bundestag on Friday, Schröder cited a lack of legitimation for his reform policies and conflict within his party, the SPD, as the reasons for seeking new elections.
"If we are to continue with this agenda, legitimation through new elections is needed," Schröder said.
The chancellor is playing a dangerous game, however. Pollsters believe early elections could well put an end to his seven-year tenure.
In May, Schröder said he would seek early elections after his party suffered a humiliating defeat in regional elections in the traditional SPD-stronghold state of North Rhine-Westphalia.
Abstention requested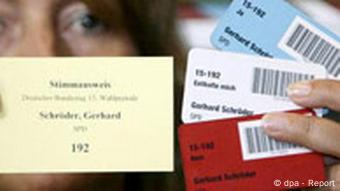 Schröder's voting cards: He's planning to choose white for abstention
Coalition deputies have been asked to abstain Friday and Schröder has said he will do the same, putting himself in the bizarre position of withholding support from his own government.
Opposition lawmakers, eager to take back the reins after seven years in the wilderness, will of course back the measure.
If President Horst Köhler agrees to dissolve parliament on the basis of the no-confidence vote and call new elections in September, Schröder will face a challenge from conservative opposition leader Angela Merkel, who aims to become Germany's first female chancellor.
Merkel hailed Schröder's call for parliament to be dissolved after the confidence vote, saying the country needed a new government.
"We welcome your call," Merkel said in her reply to Schröder's speech on Friday. "The next election will be an election about the direction the country is taking. It is not enough to say we'll carry on as before."
Court challenge
Although a vast majority of Germans hope the poll will be held this year -- 12 months ahead of schedule -- the move could still be thwarted by a court challenge.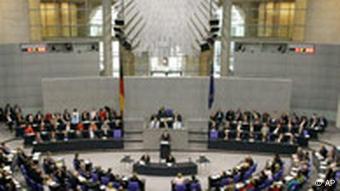 Parliamentarians listen to Schröder's speech on Friday
Some coalition lawmakers, fearful of losing the election and bewildered by the request to express no-confidence in a government they still support, have said they are weighing an appeal to the federal constitutional court, Germany's highest tribunal.
But SPD leader Franz Müntefering said Thursday that the party fully expected new elections and was arming for battle.
"There is no plan B," he said.
Friday's vote is the second time Schröder has faced a no-confidence vote before parliament.
In 2001, he called the vote to discipline members of the coalition opposed to committing German troops to the US-led war on terrorism after the Sept. 11 suicide hijackings. He won by a razor-thin margin.