Speaking during an official visit to the Czech Republic, which split from Slovakia in 1993, Schröder rejected "the unacceptable messages" which were hurled against the Czechs during a weekend conference of Sudeten Germans by Bavarian Premier Edmund Stoiber.
Schröder said that while he respected the personal tragedies accompanying the post-war expulsion, causes and consequences could not be mixed up.
"I don't downplay in any way the personal catastrophes which happened," he said during a press conference with his Czech counterpart, Jiri Paroubek. "But the causes were the occupation and the war, and these came from Germany."
He insisted that the continuing row over the wartime expulsion could not negatively affect the "excellent" bilateral relations.
Stoiber attacks Benes statue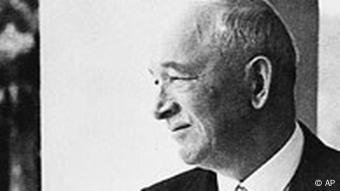 Edvard Benes
At the weekend rally in Germany, Sudeten Germans and their patron, Bavarian Premier Edmund Stoiber, again called for the so-called Benes decrees to be revoked and attacked the unveiling of a statue in Prague this week to former Czechoslovak President Edvard Benes (photo), who signed the expulsion order.
Around 2.5 million people were expelled from Czechoslovakia under the 1945 Benes decrees on the basis that they had supported Hitler's annexation. Their property was confiscated. Between 25,000 and 30,000 people died during the expulsion.
The postwar transfer of the strong German minority from Czechoslovakia's border areas, the Sudeten territories, continues to stir up emotions in both the Czech Republic and Germany, although not at a government level.
After their talks in Prague Schröder and Paroubek traveled to Terezin, also known as Theresienstadt, 40 kilometers (25 miles) north of Prague, to the site of the former Nazi transit camp to pay tribute to the 35,000 people who died there.