"France was liberated from German occupation and we Germans from the Nazi tyranny," Schröder said in a written interview with Reuters Tuesday. "This day is much more than victory or defeat. It has become a symbol of the struggle for freedom, democracy and human rights. It is only right that we Germans take part."
President Jacques Chirac invited Schröder to attend the June 6 D-Day celebrations in France. "It's a generous and moving gesture for which I'm very grateful and whose historic importance cannot be overestimated," Schröder said. "This invitation shows the postwar period is over and done for good."
Initially, some news media reported that Allied veterans were opposed to the German leader's presence at ceremonies. It would be "sacrilege" if Schröder laid a wreath on British graves, The Daily Telegraph quoted the head of the Normandy Veterans' Association (NVA) as saying.
But since then tempers seem to have been soothed. "It's high time we all got together," Jim Weaver, an English NVA member in Normandy told The Daily Telegraph.
"I say: let (the Germans) come. Only good can come of it," English veteran Gordon MacDonald commented.
In France too, Chirac's invitation to Schröder had been discussed with veterans, French Minister Delegate for Veteran Affairs Hamlaoui Mekachera said. "No one was opposed," he stressed.

World leaders to take part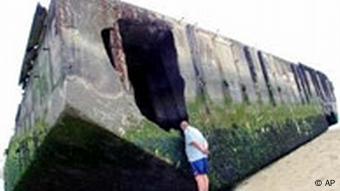 A man looks through the remains of a floating bridge from World War II on the beach of Arromanches-Les-Bains, France. Arromanches will be the site of the international ceremony celebrating the 60th anniversary of D-Day on June 6.
Schröder will attend a remembrance ceremony on Sunday near the town of Arromanches along with leaders from 17 countries, including U.S. President George W. Bush, British Prime Minister Tony Blair and Russian President Vladimir Putin. Later in the day the German leader is expected to lay wreaths at a British military cemetery in Ranville and take part in a Franco-German reconciliation ceremony.
None of Schröder's predecessors attended ceremonies commemorating the landing of some 175,000 Allied troops onto Normandy's beaches in 1944. His immediate predecessor, Helmut Kohl, even made it clear to then-President Francois Mitterand that he didn't want to be invited to D-Day commemorations. Kohl's older brother died from wounds he suffered fighting in Normandy.
The storming of the beaches in Normandy ultimately claimed the lives of around 150,000 Allied troops and 60,000 German soldiers. It is regarded as a turning point in World War II.
Schröder himself was only two months old when Allied forces landed in Normandy. His father, who he never knew, was killed in combat in Romania four months after D-Day.