The satirist who started Yolocaust, a website that combined photos from the Holocaust memorial in Berlin with footage from Nazi concentration camps, announced that he was concluding the project "for now" on the project's homepage on Thursday. Shahak Shapira took down all Yolocaust pictures and instead posted an open letter, along with a selection of comments he received in reaction to the project. He wrote that in just eight days, his page was visited by over 2.5 million people.
Shapira said that all people who were featured on Yolocaust reached out to him and that "[a]lmost all of them understood the message, apologized and decided to remove their selfies from their personal Facebook and Instagram profiles."
Shapira, an Israeli Jew living in Germany, had published a series of photos on January 18 featuring young people posing in the Holocaust memorial in Berlin in all but reverent poses. One picture showed a couple taking a selfie, another featured a man juggling, several showed young women in yoga poses. The pictures were overlayed with photos from the actual Holocaust, creating a macabre juxtaposition.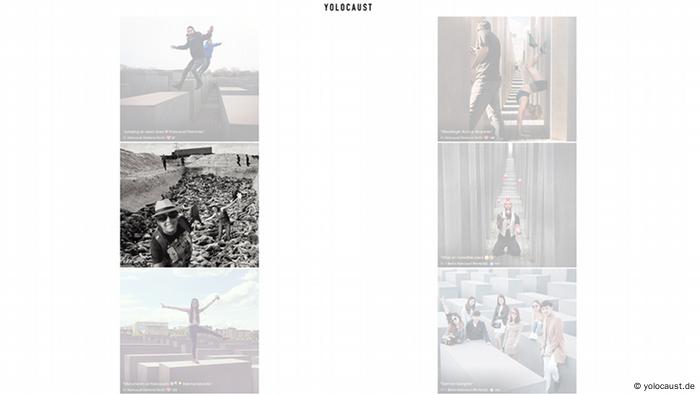 Some of the pictures featured on the Yolocaust website
Yolocaust attracted much media attention and quickly garnered both praise and criticism. Shapira said that his intention was to kick off a debate on German remembrance culture.
Along with his own letter, the satirist published an email he received from a young man featured in on the site, who wrote that "I didn't mean to offend anyone. Now I just keep seeing my words in the headlines. I have seen what kind of impact those words have and it's crazy and it's not what I wanted." The first picture on Shapira's site showed the author of the email jumping on the memorial's concrete blocks. It was captioned "Jumping on dead Jews @ Holocaust Memorial."
mb/bw (dpa, epd)