Russian President Dmitry Medvedev vowed to fight terrorism "without hesitation, to the end," after suicide bombers killed at least 38 people at two Moscow metro stations in the deadliest attacks in half a decade.
Female suicide bombers have been blamed for the twin attacks, which also injured at least 64 during the Monday morning rush hour as trains were packed with commuters.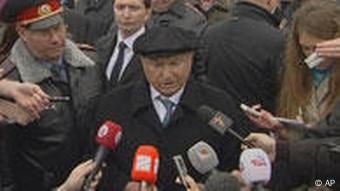 Moscow's mayor said female suicide bombers carried out the attacks
"We can assume that belts with explosive devices were attached to their bodies," Moscow's chief prosecutor Yuri Syomin told reporters.
The first explosion hit the Lubyanka station in central Moscow shortly before 8 a.m. local time. A spokeswoman for the Russian Emergency Situations Ministry told the Itar-Tass news agency that 22 people had been killed in the blast at Lubyanka. Fatalities occurred both inside the train and on the platform, according to the spokeswoman. The second blast hit the Park Kultury station about eight minutes later.
European leaders condemned the attacks and offered their support to Russia in the fight against terrorism. German Chancellor Angela Merkel expressed her "shock and horror" at the attacks, and expressed her condolences to the victims in a message to Medvedev, her spokesman said.
Fight against terrorism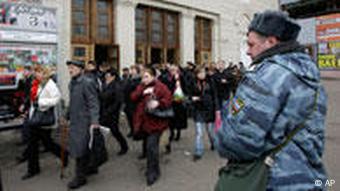 Lubyanka Station is next to the Russian Federal Security Service (FSB) headquarters
U.S. President Barack Obama offered his "deepest condolences" to the people of Russia after "the terrible loss of life and injuries."
"The American people stand united with the people of Russia in opposition to violent extremism and heinous terrorist attacks that demonstrate such disregard for human life, and we condemn these outrageous acts," he said.
NATO also condemned the attacks and offered its support to Russia.
"I express my condolences to the families of those who have lost their lives, and wish a speedy recovery to the injured. NATO remains committed to cooperating with Russia in the fight against international terrorism," said NATO Secretary General Anders Fogh Rasmussen.
No group has claimed responsibility for the attacks, but suspicion has been cast on Chechen militants. The head of the Federal Security Service, Alexander Bortnikov, said the bombers were likely from Russia's Islamist insurgency in the northern Caucasus.
Monday's attacks were the first bombings in Moscow's metro since 2004, when a Chechen suicide bomber killed 40 passengers.
smh/cmk/AFP/AP/dpa/Reuters
Editor: Susan Houlton