During the talks, Lavrov said Russia did not see a threat from Poland, but simply could not ignore a US anti-missile system - to be hosted in Poland and the Czech Republic - so close to its borders.
Russia believed the anti-missile shield to be an "integral part" of a planned US system throughout the globe and in space, Lavrov said.
"The US is currently working on a global lightning strike project," against which numerous countries and several EU nations have spoken out, he said.
For his part, Sikorski said the meeting helped him "better understand" the Russian stance.
While Poland will continue to speak out on Russian issues to the European Union (EU) and the North Atlantic Treaty Organization, it wanted to speak "in a balanced way, based on good knowledge of the Russian Federation's views and intentions."
Referring to recent threats that deploying the system would make Poland a military target, Sikorski added that Russian generals should "weigh their words more, so they don't needlessly frighten Europe."
US presidential hopefuls won't target Russia: Sikorski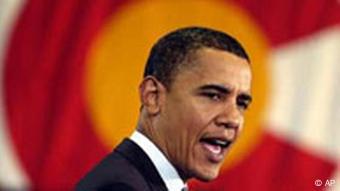 US presidential candidate Barack Obama says he wouldn't target Russia
Sikorski said he hoped that, in time, Russian worries over the system will subside. He said both US presidential candidates have said the system is not targeted at Russia, and Poland will act in a "transparent way" to build trust between the nations.
US Democratic presidential contender Barack Obama has said he will only proceed with installing a US missile shield base in Poland if it does not target Russia, Poland's foreign minister said Thursday.
"In talks with me, senator Obama made the realisation of our (missile shield) agreement conditional on whether he will be certain that the system is not aimed against Russia," Radoslaw Sikorski said at a joint press conference in Warsaw with Russian counterpart Sergei Larvov.
"In a mini-military briefing given before yesterday to senator McCain in which I participated, I can say that what the candidate was told about the purpose of the (missile shield) system has nothing to do with Russia," Sikorski said of a consultation with the Republican presidential candidate John McCain.
"So we hope that Russian fears over this agreement, will dissipate with time," Sikorski said.
Russian security still threatened: Lavrov
Russian Foreign Minister Sergey Lavrov charges that US missile shield targets Russia
"We do not see any threat from Poland, but we have said there are risks to the security of the Russian Federation that are occurring as a result of American infrastructure coming closer to our borders," Lavrov said.
In an article published in Polish news media Thursday, Lavrov said the US missile shield planned for Poland and the Czech Republic targets Russia, rather than any potential threat from Iran.
"A simple military analysis proves that a US base in Europe for global anti-missile defence has no other, and for many years will have no other, target but Russian missiles," Lavrov wrote in the Gazeta Wyborcza newspaper.
"All objective experts understand that Iran's missiles pose no threat to Europe and even less to the United States."
Lavrov in an article published earlier in a Polish daily wrote that Russia was ready to talk about the missile shield as long as the guarantees weren't "empty political gestures."
"If the US and Poland are really interested in guaranteeing that the European anti-missile base won't be aimed against Russia, then we, like up until now, are ready to consider their concrete proposals," he said.
Lavrov's was the first visit by a senior official since the recent conflict with Georgia. He was slated to meet with Prime Minister Donald Tusk later Thursday.
Washington's plans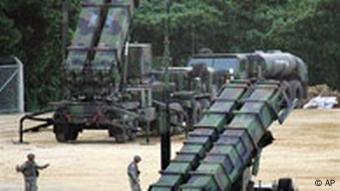 The US says its missile system will guard against rogue states like Iran
Poland and the United States signed a deal on August 14 to base part of a US missile shield in Poland, in the face of Moscow's vehement opposition and mounting East-West tensions over Georgia.
Washington plans to base 10 interceptor missiles in Poland plus a radar facility in the neighbouring Czech Republic by 2011-2013 to complete a system already in place in the United States, Greenland and Britain.
The United States contends that the shield -- endorsed by NATO leaders in February -- is to fend off potential missile attacks by "rogue states" such as Iran, and that it is not aimed at Russia.
Poland also drew Russia's anger by leading several former eastern bloc countries in calling for a tough EU stance against Russia over the latter's conduct in a brief conflict with Georgia.