He was seen as a socially engaged businessman, one who, in his free time, looked after local children. In 2001, Markus R.'s company transferred him to Romania, where in his free time he began offering free karate classes and other activities to schoolchildren. In actuality, he was photographing and filming the boys nude, later selling the materials through a Canadian website.
This was the same website where, according to media reports in Germany, Sebastian Edathy, a parliamentarian for the Social Democratic Party (SPD), purchased DVDs containing nude images of underage persons.
In 2010, Markus R. was arrested by Romanian police. He was found guilty of child abuse. After two years in a Romanian jail he returned to Germany in 2012, where his surname remains unknown to the public due to a German law protecting the accused as well as perpetrators.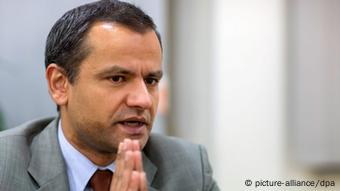 The Edathy (pictured) affair also brought Markus R. to the attention of the press
Victims caught in the limelight
By comparison, some current reports on Edathy's case have included the full names of relatives of the victims of those photographs. On television, the face of an underage victim has even been shown unpixelated.
"It's outrageous that the German press keeps the perpetrator anonymous on the one hand, and on the other, names the children, family members and even the town in which these people live," said Stefan Candea, who directs the Romanian Center for Investigative Journalism, in an interview with DW. Together with Canadian journalists from the Toronto Star newspaper, his organization has been investigating an international child pornography ring.
"If a debate could be initiated that would result in a radical change to these children's situations, that would be good. But that doesn't appear to be the case," said Candea. "In Romania, such a debate would never be initiated. And discussions in Germany don't place the victims at center stage."
According to the Romanian journalist, a larger question remains: How could a German parliamentarian have been forewarned that he was being investigated?
Oversight by German police
Before Markus R. arrived in Romania, he had already served prison time in Germany for sexually abusing a child. After his release, Markus R. continued to be monitored. But in Romania, said Candea, he was able to do what he could not while still living in Germany: work with children.
"German authorities should have informed their Romanian colleagues about that," he said. According to Romanian police, that never happened.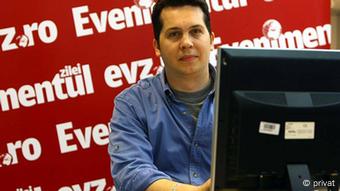 Diaconu: "These cases can't just be dismissed as a result of the communist dictatorship"
But why did Markus R. choose Romania of all places? "The country has been considered for quite some time as a paradise of criminality - sexual criminality above all else," said Romanian psychiatrist Gabriel Diaconu. "It's certainly also a legacy of the communist dictatorship and a result of the poverty in Romania - many families neglected their children, and some continue to do so." According to Diaconu, institutions that protect underage victims are also lacking.
Not a 'national phenomenon'
But, said Diaconu, psychologists and social workers should not classify these abuse cases as a "national phenomenon," and dismiss them as being the result of "a poor country, poor people and pathological poverty." "The children are not just Romanian citizens, but victims of an international child pornography ring. We can't just dismiss these cases as a result of the communist dictatorship," said Diaconu, adding that child pornography and child trafficking "cannot be reduced to the place where the victims live."
The fact that some of the victims appeared in German media reports with their real names is akin to being "abused for a second time," this time by the press, said the journalist Stefan Candea. The Romanian authorities have not helped the affected families seek damages from Markus R., and the abused children have yet to receive any psychological support. "And that's not all," said Candea. "Some of the parents have complained that the prosecutor spoke in an aggressive manner with their children."