In the election program that Merkel's Christian Democrats (CDU) presented in Berlin on Monday, one particular issue has caused heated discussion: tax cuts.
Merkel's current coalition partners, the Social Democrats SPD, have sharply criticized the program. The SPD's secretary general Hubertus Heil said the agenda "was not credible."
He warned that "Merkel is either trying to pull the wool over the voter's eyes, or there really is no sound concept behind the whole thing."
He said that the CDU's election program did not contain ideas on how to shape the country's future. With the country's budget set for a record deficit, any promise to lower taxes was simply "unrealistic."
Criticism from traditional allies
Criticism also came from the liberal Free Democratic Party (FDP), normally a strong advocate for tax cuts. The party's Juergen Koppelin criticized the plans as "very vague and non-binding".
He criticized the plan as "spineless" for not including a timetable outlining when the tax cuts would kick in. The FDP are traditional allies of the Christian Democrats and would likely be Merkel's preferred coalition partner after September's national elections.
The opposition Greens also called the program a grab bag of policies, while the Left party called the tax cuts implausible.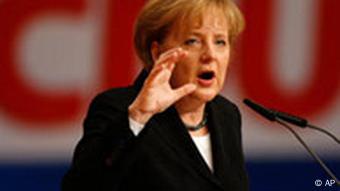 Merkel's CDU hopes to woo voters with lower taxes
Conservatives defend the program
Members of Merkel's Christian Democratic Union (CDU) and their Bavarian sister party, the CSU, have defended the program.
CDU secretary general Ronald Pofalla told German public television, that "the central message remains: we have to lower taxes."
On Sunday delegates from the Christian Democrats and the Bavarian CSU agreed that tax cuts should be the cornerstone of their re-election campaign and should be introduced at some point during the next legislative term.
The two parties, however, failed to agree on a date for the cuts, to the dismay of the CSU, which wanted to see the measures introduced by 2011.
Yet there had been resistance to the plans even from within the conservatives with two of the Christian Democrat's state premiers arguing in favor of a tax increase.
ai/dpa/AP
Editor: Trinity Hartman