Cullis-Suzuki is the daughter of environmental guru David Suzuki, but she has become an activist and environmentalist in her own right.
As the summit gets set to return to Rio next month, she is reflecting on the moment that changed her life forever.
In 1992, delegates from around the world gathered in Rio de Janeiro, for the first United Nations Conference on Environment and Development, also known as Earth Summit.
Tens of thousands of participants from governments, corporations and environmental groups came to talk about a sustainable future.
Cullis-Suzuki and three of her friends formed the group ECO: Environmental Children's Organization and raised money to travel from Vancouver, British Columbia, to Rio to attend the summit.
Standing ovations
She addressed a room of delegates at the conference, and left them all speechless.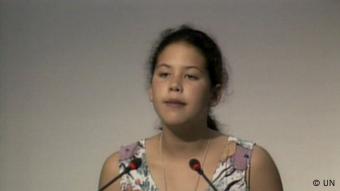 12 year old Severn Cullis-Suzuki speaking to the UN conference in Rio de Janeiro, 1992
"We felt it was important to go," Cullis-Suzuki says, "we figured it was going to be mostly old men, sitting around, making decisions that are going to affect our future and the future generation. So we wanted to go as the conscience - as a reminder to those decision makers, who their decisions would truly affect."
Her six-minute speech revealed her fears over the state of the environment, and her concerns for generations to come.
"You don't know how to fix the holes in our ozone layer," she said 20 years ago. "You don't know how to bring salmon back up a dead stream. You don't know how to bring back an animal now extinct. And you can't bring back forests that once grew where there is now desert. If you don't know how to fix it, please stop breaking it!"
It was an intensely passionate, personal and provocative plea to delegates.
Policy makers from around the world gave her a standing ovation. Al Gore told her she made the best speech at the summit.
At just 12 years old, Cullis-Suzuki was propelled onto the world stage, and became known as an environmental activist to watch.
Environmental activist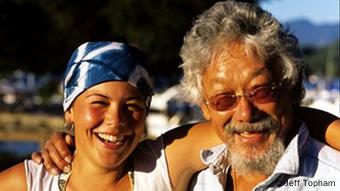 Cullis-Suzuki was influenced by her father, scientist and environmentalist David Suzuki
"I began to lead two lives...one being a kid and the other starting to speak internationally about the environment...and advocating for social and environmental justice. So that [speech] had a really big impact on my life."
Cullis-Suzuki's speech has garnered worldwide attention. A video of it has been viewed more than 18 million times online, but ask her now, at the age of 32, if she was successful, the answer isn't easy.
"It's hard to gauge whether you've had an affect in changing people's awareness...I think now 20 years later is a good time to ask 'have we been successful in changing the world to become more sustainable?' I think we have not."
Cullis-Suzuki says two decades since she gave that speech in Rio, many of the world's environmental problems are worse. So she's headed back to Brazil this year for the Rio+20 Summit.
The conference will look at ways to reduce poverty, advance social equality and ensure environmental protection. No small feat says Cullis-Suzuki.
"Looking to Rio 2012, we're looking for solutions, for a paradigm shift. That's what I want...it didn't happen back then, we need it now."
In 1992, Cullis-Suzuki attended Earth Summit with a group of 12 and 13 year olds, so it seems only fitting she returns to the conference this year with another group of young activists, called We Canada.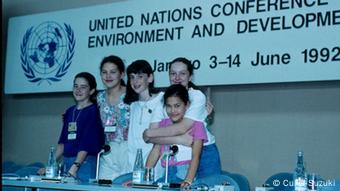 Severn Cullis-Suzuki and some friends raised money to travel to the Rio summit in 1992
"We need to hear from our youth, and I think that is why people listened to me back then, because I was so young and because I reminded people what was truly at stake. And what's truly at stake is what ordinary people love most in this world. And that is their children."
Calling for a change
Climate change is the big issue on her mind this time around, and Cullis-Suzuki hopes to raise awareness, evoke change and see the world recommit to a sustainable future.
The reality is many things haven't changed since Cullis-Suzuki first spoke at Earth Summit, but she admits some things are different now.
"At the moment, Canada is doing terribly when it comes to our government's actions on environmentalism, we really are going backwards. When I think of 20 years ago, Canada was really seen as an environmental leader back then and now we are seen as the opposite: an environmental obstruction."
Cullis-Suzuki says she's ashamed of being Canadian when she attends environmental conferences, and is calling for change, in Canada and abroad.
"It is essential that our world leaders get together and try to work together on these issues that affect us all beyond borders...there's a lot that needs to be done."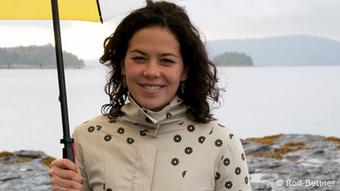 Severn Cullis-Suzuki continues to inspire young people
In addition to her work with We Canada, Cullis-Suzuki has also teamed up with toiletries giant Dove, and its campaign for alternative role models for young women. She's cycled across Canada to raise awareness about climate change and air pollution, and has served on the UN's Earth Charter Commission and on Kofi Annan's Special Advisory Panel for the 2002 World Summit on Sustainable Development in Johannesburg.
From the young girl who first spoke in Rio two decades ago, Cullis-Suzuki is now a mother of two. She says her perspective may have shifted, but her message remains the same.
"I was at Earth Summit in Rio 20 years ago…I was only 12 years old. And when I was speaking to the UN I was fighting for my future. Today...20 years later, I will be fighting for the future for my sons."
Rio+20 Earth Summit gets underway June 20th.
Severn Cullis-Suzuki says she'll make sure her voice is heard.
Author: Cesil Fernandes
Editor: Jessie Wingard