On May 29, 373 Bulgarian human rights activists and intellectuals published an open letter calling for the resignation of Deputy Prime Minister Valeri Simeonov. A member of Sofia's junior ruling coalition group, United Patriots, Simeonov was recently put in charge of Bulgaria's demographic policy and also tapped to head the country's federal council on integration. The authors of the letter proclaimed that it was scandalous to appoint a "pronounced supporter of fascist and neo-Nazi ideology" to such posts.
United Patriots is a three-way alliance of small right-wing populist parties: Valeri Simeonov's National Front for the Salvation of Bulgaria (NFSB), Krasimir Karakachanov's Bulgarian National Movement (IMRO); and Volen Siderov's Attack party.
Roma women vilified as 'stray dogs'
Simeonov, a 62-year-old politician, businessman and media entrepreneur who is now responsible for demographic development and minority integration, already has quite a reputation in the political arena. In 2015, speaking of Bulgaria's Roma minority and their large families, he told parliament: "They are brazen, feral, human-like creatures that demand pay without work, and collect sickness benefits without being sick. They receive child benefits for children that play with pigs on the street, and for women that have the instincts of stray dogs."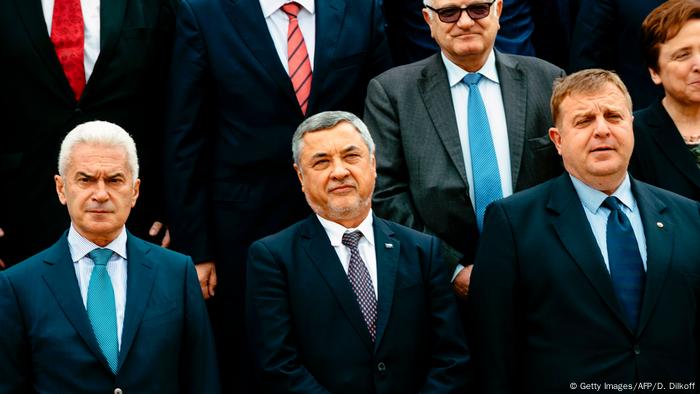 United Patriots leaders (from left): Volen Siderov, Valeri Simeonov and Krasimir Karakachanov
Simeonov's NFSB party is calling for the demolition of "Gypsy ghettos" and the isolation of Roma in closed "reservations" (modeled on those for Native Americans and Aborigines), claiming that these could then be used as "tourist attractions." Early in his career, as the open letter points out, Simeonov publicly mused about creating "modern concentration camps."
Nazi salutes and unsavory photos
Simeonov is not alone in his leanings. Bulgaria's Prime Minister Boyko Borissov recently accepted the resignation of United Patriots politician and Deputy Minister for Regional Development Pavel Tenev. The resignation came after an old photo of Tenev giving a Nazi salute to a wax figure in an SS uniform was discovered on his Facebook page. The photo was captioned: "Reporting to the boss."
Bulgaria's Roma population is frequently the target of right-wing nationalists
In an attempt to shield his party friend and play down the story, Simeonov told a newspaper interviewer about a visit he made to the Buchenwald concentration camp in the 1970s, saying: "Who knows what kind of silly photos we might have taken." Another United Patriots politician was recently forced to vacate his post in Sofia's defense ministry after he was photographed giving a Nazi salute in front of a German WWII tank. Incidentally, Sofia's new defense minister is none other than United Patriots member Karakachanov. He is also known for his aggressive rhetoric, mostly aimed at Bulgaria's minority Turks and the neighboring Former Yugoslav Republic of Macedonia.
The third member of the "patriotic" alliance is the notoriously violent politician and Holocaust denier Volen Siderov, chairman of the far-right party Attack. Siderov, along with his black-clad henchmen, have been involved in a number of fights over the last 10 years, repeatedly launching violent attacks against Muslims and their places of worship. Last year they even stormed the National Academy for Film and Theater Arts, attacking students and teachers because a student supposedly insulted Siderov. Party friend Ilian Todorov was seen at Siderov's side during the brawl; now he has been appointed Sofia's regional governor.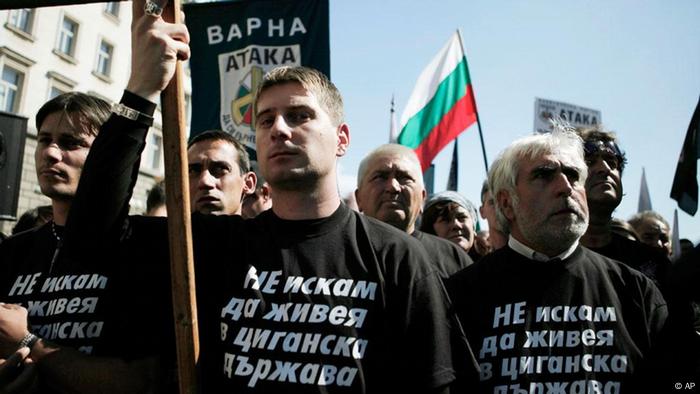 Members of the far-right Attack party
Awaiting an EU response
This is by no means the end of United Patriots' long list of unacceptable activities and statements. Observers and human rights activists in Bulgaria are now asking how long Borissov and his center-right GERB party will tolerate their majority-enabling junior coalition partner. Those observers point out that GERB is a pro-European member of the European People's Party and must be prepared to face tough questions in Brussels. The 373 signatories of the open letter addressed to EU leaders say that it is "totally unacceptable" that people with "extreme nationalist and destructive views" be allowed to serve in Bulgaria's government - let alone occupy the post of minority integration minister in an EU member state.