Briefing reporters in Washington, US State Department spokeswoman Jen Psaki confirmed that Yemen's president had fled his residence in the southern city of Aden.
"We were in touch with him earlier today," Psaki said. "He is no longer at his residence. I'm not in position to confirm any additional details from here about his location."
Embattled Yemeni leader Abed Rabbo Mansour Hadi left his palace as Shiite rebels closed in on the country's third-largest city.
The rebels, known as Houthis (pictured above in the capital Sanaa) and reportedly supported by Iran, had offered a bounty of around $100,000 (912, 575 euros) for Hadi's capture.
They also arrested his defense minister, Maj.-Gen. Mahmoud al-Subaihi.
The Houthis seized Yemen's capital Sanaa last September and several key northern provinces.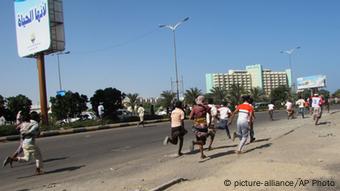 People flee the southern port city of Aden following gunfire
The rebel advance on Aden could see Yemen, the Arab world's poorest country, spiral into a civil war that could draw in its Gulf neighbors.
Hadi, a close US ally, appealed to Gulf Arab allies and the United Nations to intervene militarily to stop the Houthi's surrounding the city.
Meanwhile, residents were looting the presidential compound just hours after the president's departure, according to Reuters news agency.
The news agency also reported that Hadi had moved to another presidential palace in the al-Tawahi neighbourhood of Aden on Wednesday afternoon.
It was unclear whether the president remained at the second palace.
lw/kms (AP, Reuters)