Rescuers pulled the body of a teenager from the rubble of the Cologne city archive on Sunday, five days after it collapsed, dragging two other buildings with it.
A 17-year-old apprentice baker, identified only as Kevin K., was apparently asleep in an adjacent apartment complex when it tumbled to the ground along with the archive in the early afternoon of March 3.
The collapse appeared to be linked to tunneling work for a new underground train line that undermined the archive, which was crammed with manuscripts detailing Europe's medieval heritage and the works of great authors and musicians.
The archive staff and users had fled to safety within three minutes after the walls began to groan and buckle. A total of three buildings then fell into the hole that opened up in the ground.
Police said Kevin K had worked the night shift at a bakery located in the ground floor of the apartment block, and was apparently sleeping when the tragedy happened.
Rescuers were still searching Sunday for another missing man, 24-year-old design student Khalil G., who lived in the same apartment building.
"We're working non-stop, removing rubble with excavating machinery and even with our bare hands," said a spokesman for the city's fire department.
Rescue teams were not able to begin searching for the missing men until Friday because the ground was unsafe and other buildings nearby threatened to collapse.
The rescue work was able to begin only after the structures were propped up and tons of concrete were poured into a huge hole to stabilize the site.
One of Germany greatest heritage losses
The disaster is one of Germany's worst heritage losses since World War II.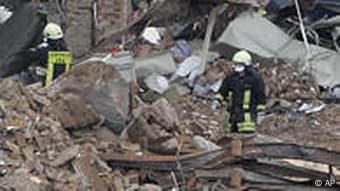 The collapse buried centuries of cultural heritage
The archives, which had six levels above ground and two below, were described as the richest municipal record collection in northern continental Europe, including decrees by emperors, lists of medieval residents and centuries of merchants' records.
Also in the archives were the private papers of Nobel Literature Prize laureate Heinrich Boell (1917-1985) and then-West Germany's first chancellor, Konrad Adenauer, and original music by composer Jacques Offenbach. The oldest item dated from 922.
Trucks hauled away to safety those manuscripts that were not damaged because they were in an annex, while firemen used their bare hands to recover individual documents from the rubble.