Family members of Babita Devi are still in grief. They have yet to come to terms with the death of their daughter, who died during childbirth last month at her home in northern India.
Late in the night, when Babita, from Karnal in the northern state of Haryana, had gone into labor, a midwife was called. But complications arose and the 21-year-old died of haemorrhaging.
"I simply cannot believe this happened," her distraught husband of three years, Keshav Kumar, told DW.
It is a story that is often heard in vast tracts of India's rural hinterland. Every year, nearly 79,000 mothers die in childbirth and from complications of pregnancy, according to the United Nations Children's Fund (UNICEF).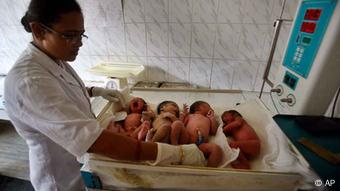 Many mothers cannot be persuaded to give birth in hospital
This harsh truth was reinforced in the "The State of World's Mothers 2012" report, produced by the International Save the Children Alliance.
Neighbors doing better
The study analyzed countries in three categories - least developed, less developed and developed. India ranked 76th among 80 "less-developed countries" in the world.
According to the report, which looks at the health and living standards of mothers and their children around the globe, one in every 140 women in India runs the risk of dying during childbirth - a much higher figure compared to neighboring countries such as China and Sri Lanka.
In China, one in 1,500 women runs the risk of maternal death, while it is one in 1,100 in Sri Lanka. India's figure is closer to that of Myanmar, where it is one in 180.
"Early marriage combined with lack of education and awareness about contraception has proved to be a lethal contributor to increased maternal mortality," Ranjana Kumari, director of the Centre of Social Research told DW.
Studies show that about 50 per cent girls are married by 18 years of age, which creates insurmountable hurdles in terms of continuing education, making contraceptive decisions, financial and social independence.
Societal expectations continue to result in teenage pregnancies and maternal deaths resulting from such cases are not always reported.
"That is why it is so important to ensure there is better education in rural swathes of the country. We have to stop child marriage and there has to be better budgetary support from the health ministry to spread this message," health worker Madhumita Sarkar, who works in that state of Rajasthan, told DW.
Mindset hard to shift
The problem is not always cultural. For every 100,000 live births, 677 women in northern Rajasthan die during pregnancy. This shockingly high maternal mortality rate is atributed to the fact that few women have access to antenatal care or skilled birth attendants.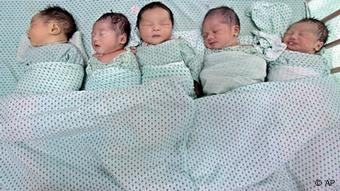 Maternity care appears to be better in neighboring countries
The majority of mothers choose not to have their babies delivered in hospital, often for economic reasons.
"It is sad but true. Midwives and home deliveries still remain the first choice for people who cannot afford to leave their homes for various reasons and there has to be a mind shift," said Kumari.
The report showed that almost half of India's births take place in the absence of skilled health personnel.
"Though India has made reasonable efforts to improve maternal health by encouraging institutional deliveries and taking other measures, the benefits have not yet appeared to bring about a shift," said Thomas Chandy, Chief Executive Officer at Save the Children India.
The annual report released as a prelude to the Mother's Day ranks the state of mothers worldwide by studying the performance of women on indices such as maternal mortality rate. Also included is the percentage of women using modern contraception, female life expectancy at birth, educational status of women, healthcare received by pregnant women, post-natal care and participation of women in government.
One further aspect highlighted by the report was that adolescent pregnancies continue in spite of strict legislation. Age-old tradition and illiteracy are believed to contribute to the problem, despite the Indian government's claims that progress has been made alongside economic growth.
Author: Murali Krishnan
Editor: Richard Connor