Despite being home to more than four million Muslims, Germany's education system does not have many outlets for preparing educators to teach Islam. In fact, there is only one small department at a single German university that currently offers it.
Now, the German Council of Science and Humanities, the government's top academic advisory panel, has recommended setting up institutes of Islamic studies at German universities.
Only one German university offers Islamic studies
Peter Strohschneider, head of the council, told reporters on Monday in Berlin that imams (Muslim religious leaders) and other Islamic scholars in Germany should hold a university theology degree as a minimum qualification.
"More than four million Muslims live in Germany, and their children have a right to be taught their religion at school," Strohschneider said. "The teachers for these classes must receive academic training."
Expanding opportunities
Currently, Islamic studies at universities in Germany mainly focus on history and art. Most teachers offering classes to Muslim children in public schools have been trained in Turkey. Only Muenster University has a small department teaching the Koran and other topics to Muslim schoolteachers.
Marianne Ravenstein, vice president of student affairs at Muenster University, says that Islamic studies has been taught there since 2005. Currently, the department has 2 professors and 30 students, who all have two majors already. But the department is now looking forward to growing and cooperating with Muslim organizations.
"We have the experience, we have the research to do this and a very good curriculum," Ravenstein told Deutsche Welle in an interview. "This development will give us more students and more professors."
Keep training in Germany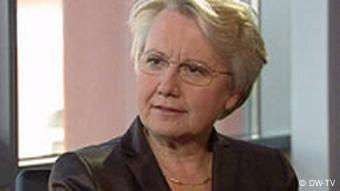 Schavan supports training educators to teach Islam
German Education Minister Annette Schavan has also welcomed the initiative, saying that training teachers and researchers in Islamic theology is necessary to provide convincing integration policies in modern societies. Ravenstein says providing the training in Germany holds plenty of advantages - both for students and potential teachers.
"They have to study here in Germany to learn this culture, to learn the language, to learn different things about the school system, and to learn about the people who educate these children," she said.
Peter Strohschneider of the German Council of Science and Humanities said that apart from urging the creation of Islamic study centers at select universities, the council also recommends that advisory groups from the Muslim community should have a say concerning content and hiring professors to avoid concerns that non-believers might be hired to teach courses.
The Council advocates the idea that the Muslim community should have the right to veto potential professors.
Author: Dagmar Breitenbach (mz)
Editor: Sonia Phalnikar